Venice Honeymoon photographer
Venice is an enchanting city of romance. It has long been a dream destination for couples seeking to capture their love story in a truly magical setting. As everyone imagines, it represents picturesque canals, charming bridges, and stunning architecture. Undoubtedly, Venice provides the perfect backdrop for a romantic photoshoot that will forever immortalize your love.
A honeymoon photoshoot in Venice is an opportunity to create breathtaking images that reflect the essence of your relationship. Whether you are strolling hand in hand along the narrow streets or sharing an intimate moment on a gondola ride through the canals, each frame captured will tell a unique story of your love.
Venice is a perfect destination for a honeymoon photoshoot in Italy
Imagine standing on one of Venice's elegant bridges as the golden sunlight bathes the city in a warm glow. The ancient buildings and glistening waters create an atmosphere that is both timeless and ethereal – an ideal setting for capturing those cherished moments with your partner.
A professional photographer experienced in capturing love stories in Venice can guide you to hidden gems and secret spots that will add depth and authenticity to your photos. From iconic landmarks like St. Mark's Square to lesser-known corners brimming with charm, every location holds its own special allure. Venice Honeymoon photographer
Whether you don elegant attire or opt for more casual outfits that reflect your personality, each photograph taken during your Venice photoshoot will be infused with emotion and romance. The city becomes not just a backdrop but an integral part of the narrative – enhancing the beauty and significance of each image.
Your love story deserves to be captured in all its glory, and what better place than Venice? Let this captivating city serve as the canvas upon which your memories are painted – creating timeless photographs that will transport you back to this momentous chapter whenever you gaze upon them.
In conclusion, a romantic photoshoot in Venice offers couples an extraordinary opportunity to encapsulate their love story amidst one of the most enchanting cities on earth. With its unparalleled beauty and undeniable charm, Venice provides the perfect setting to capture your love in all its splendor. Here are steps for planning a romantic honeymoon photoshoot in Venice
Research and Choose the Perfect Locations for Your Honeymoon Photoshoot.
Venice Honeymoon photographer
Start by conducting thorough research on Venice photoshoot locations. Look for places that exude romance and charm, ensuring that they align with your vision for the shoot. Consider iconic landmarks like St. Mark's Square or the Rialto Bridge, which offer stunning architectural beauty. Venice Honeymoon photographer
Find the Right Photographer to Capture Your Love and Style.
It is about more than just technical skill – it's about finding someone who can connect with you as a couple and create an atmosphere that allows your love to shine through in every image. So take the time to research, communicate, and choose wisely – because these photographs will be cherished memories for years to come.
Plan Your Honeymoon Photoshoot Timeline and Schedule.
Firstly, consider the lighting conditions. The golden hour – the period just after sunrise or before sunset – is known for its soft and warm light that creates a magical ambiance in photographs. Schedule your shoot during these times to capture breathtaking images of the enchanting Venetian scenery.
Next, think about the logistics of your day. Venice can be crowded with tourists, especially during peak travel seasons. To avoid large crowds and distractions in your photos, plan your shoot early in the morning or later in the evening when tourist activity tends to be lower.
Additionally, take into account any specific locations you want to include in your shoot. Research their opening hours and availability to ensure you can access them during your desired time slot. This will help you create a well-structured itinerary for capturing those special moments throughout Venice.
Lastly, consider incorporating breaks into your schedule. Honeymoon shoots can be tiring as you explore different areas and strike various poses. Allowing yourself some downtime will help you stay refreshed and enjoy each moment without feeling rushed or overwhelmed.
Choosing Outfits and Accessories that Complement the Romantic Vibes of Venice.
For the outfits, opt for soft and flowing fabrics that evoke a sense of romance. Think about incorporating pastel colors, delicate lace, or even floral prints to add a touch of whimsy. Dresses or skirts with movement can create stunning visual effects as you stroll through Venice's charming streets or glide along its iconic canals.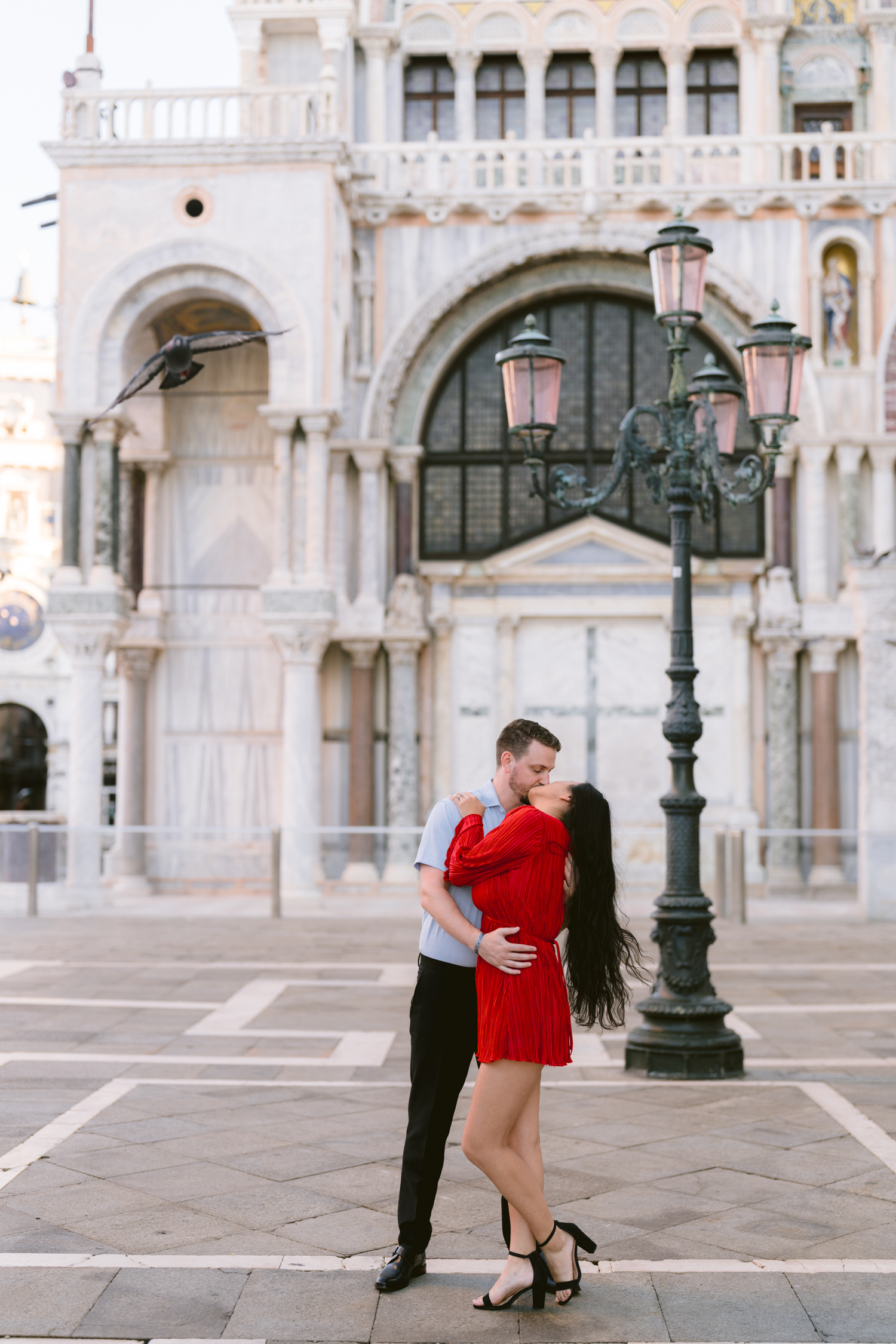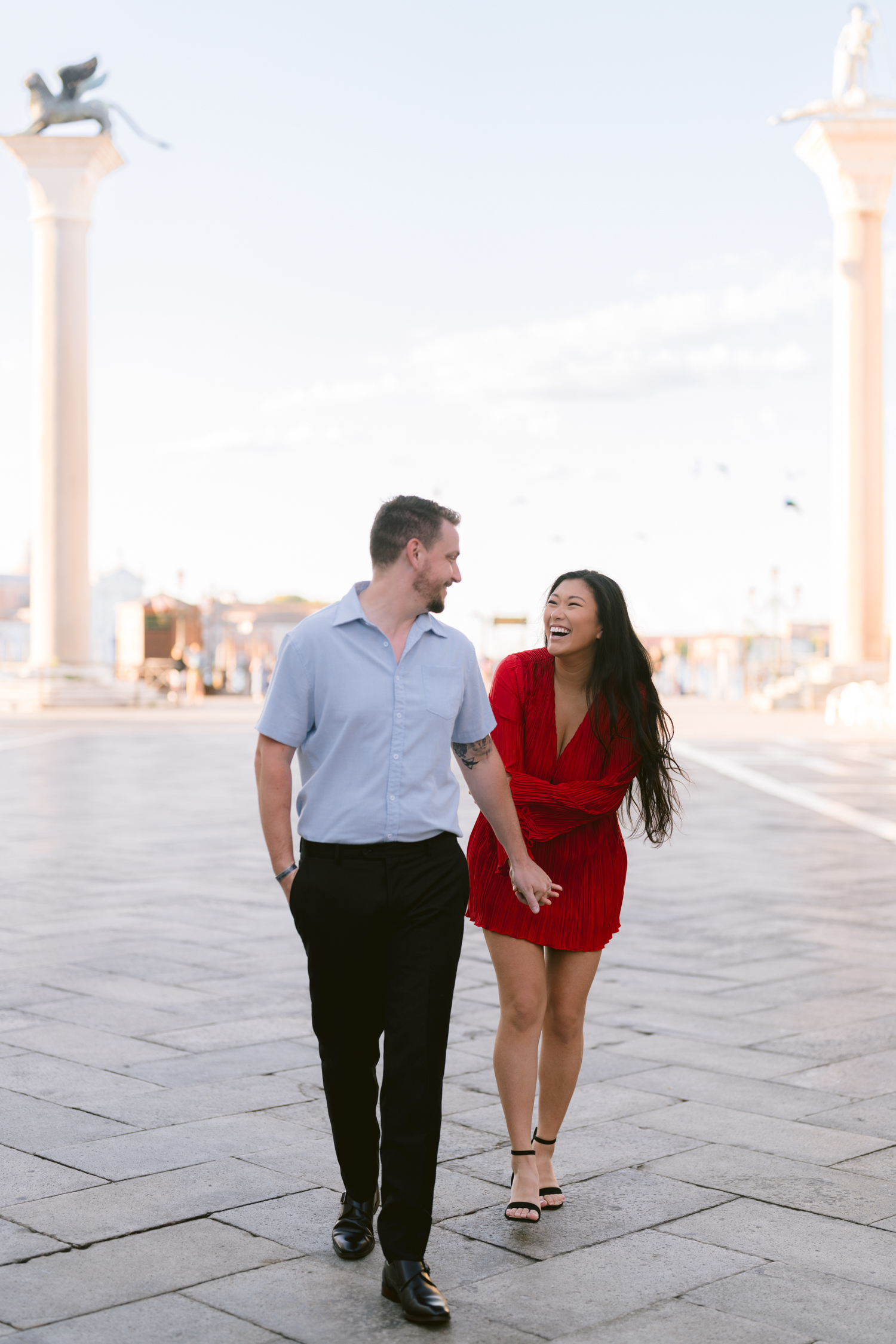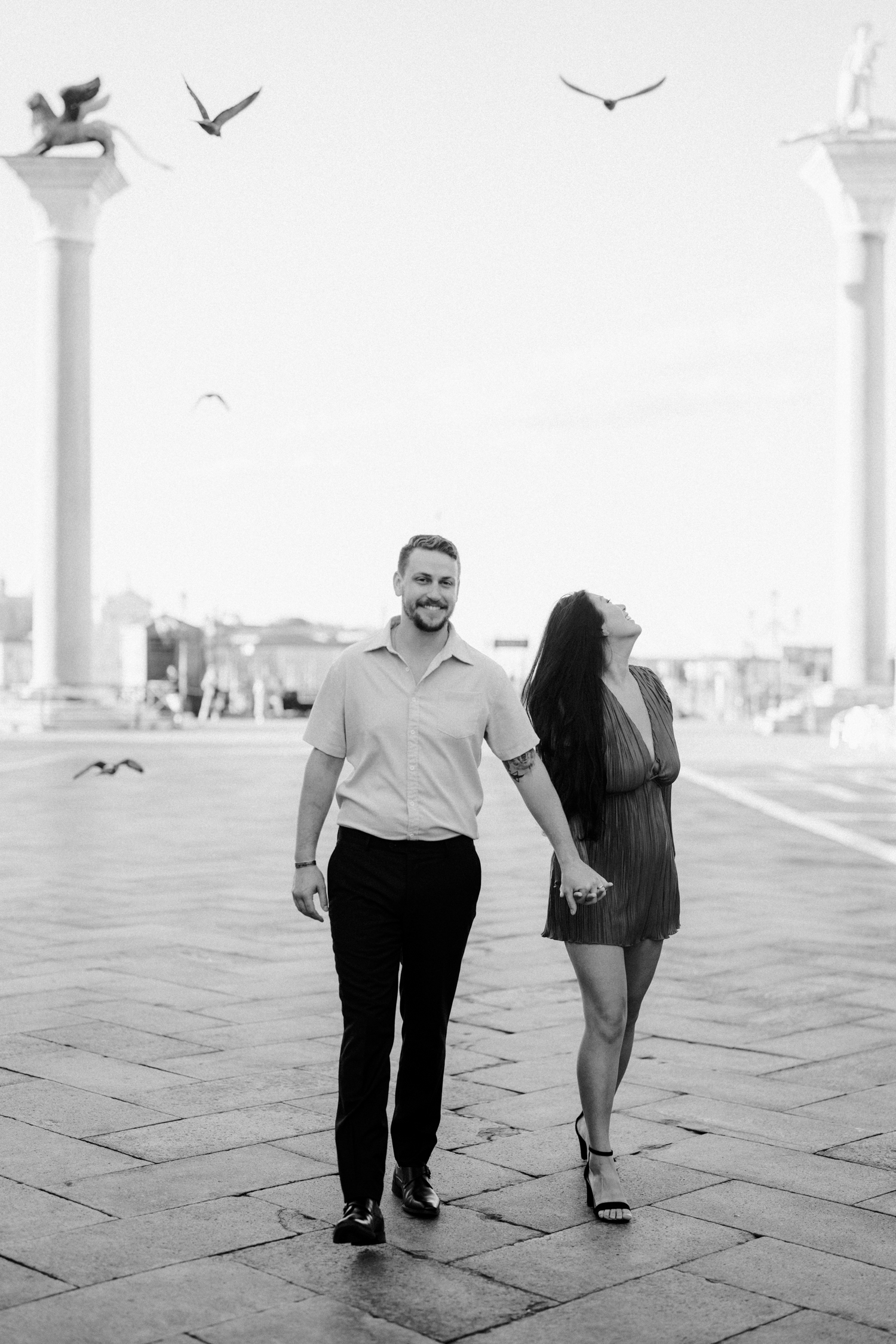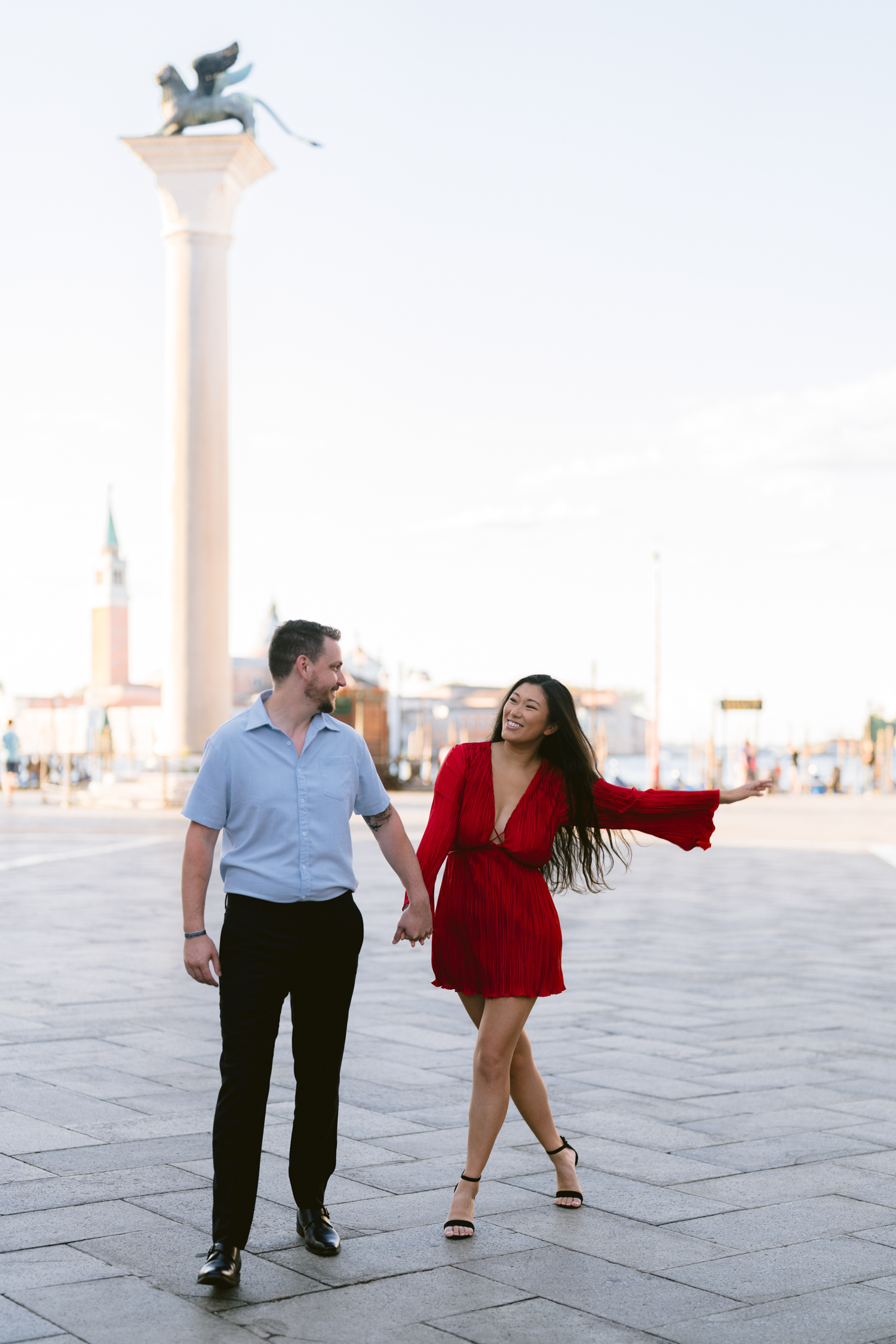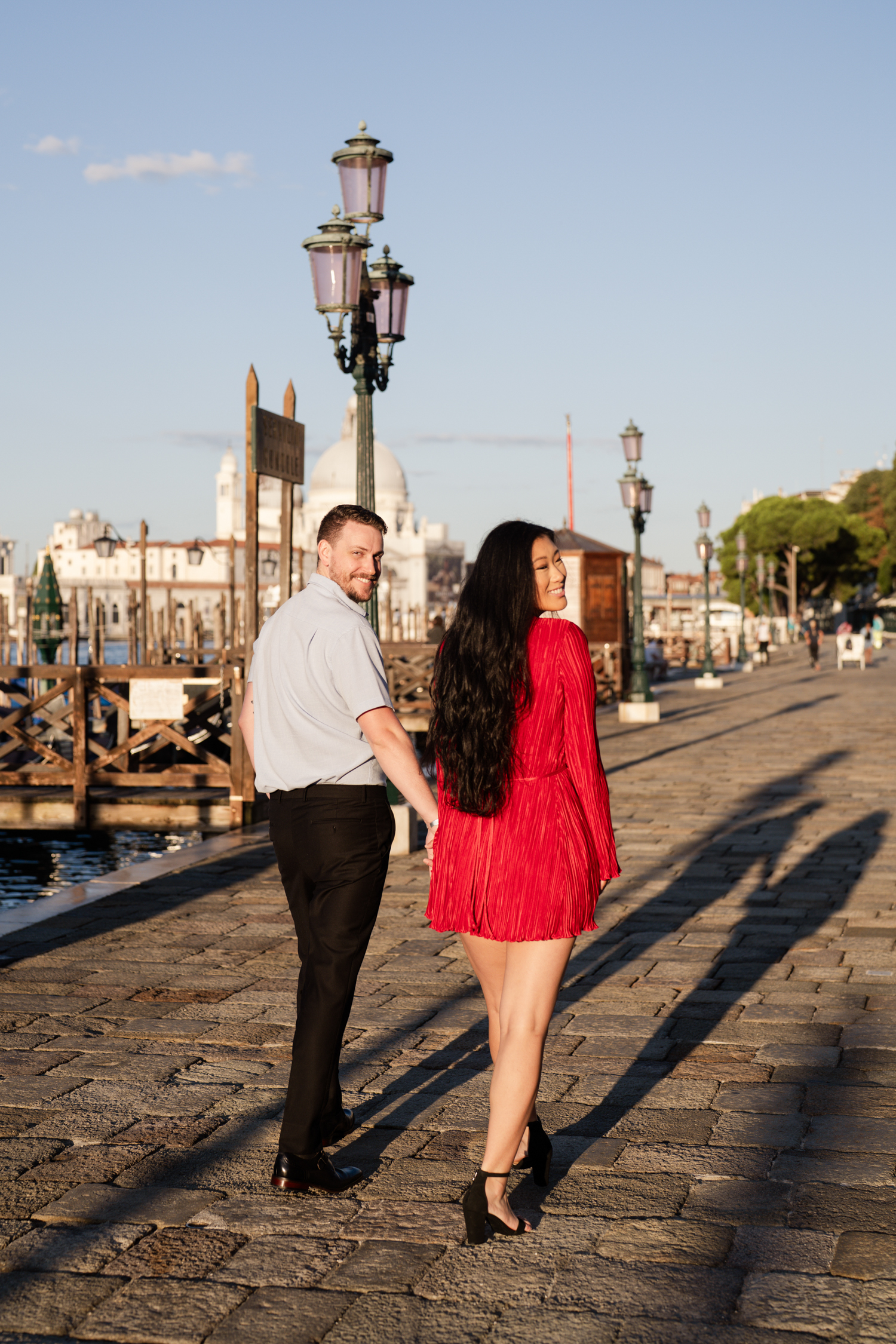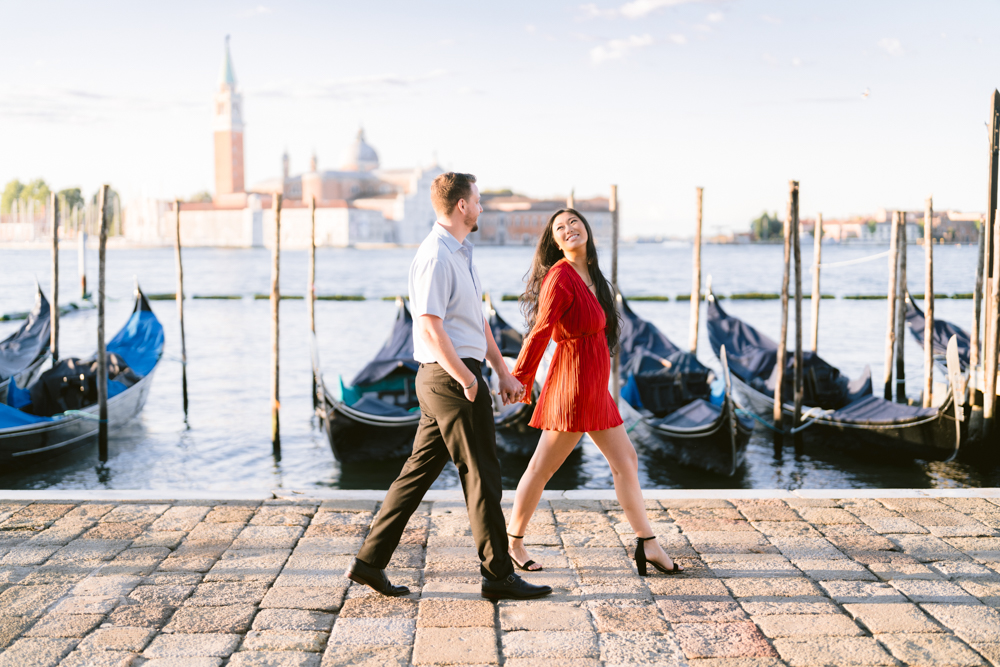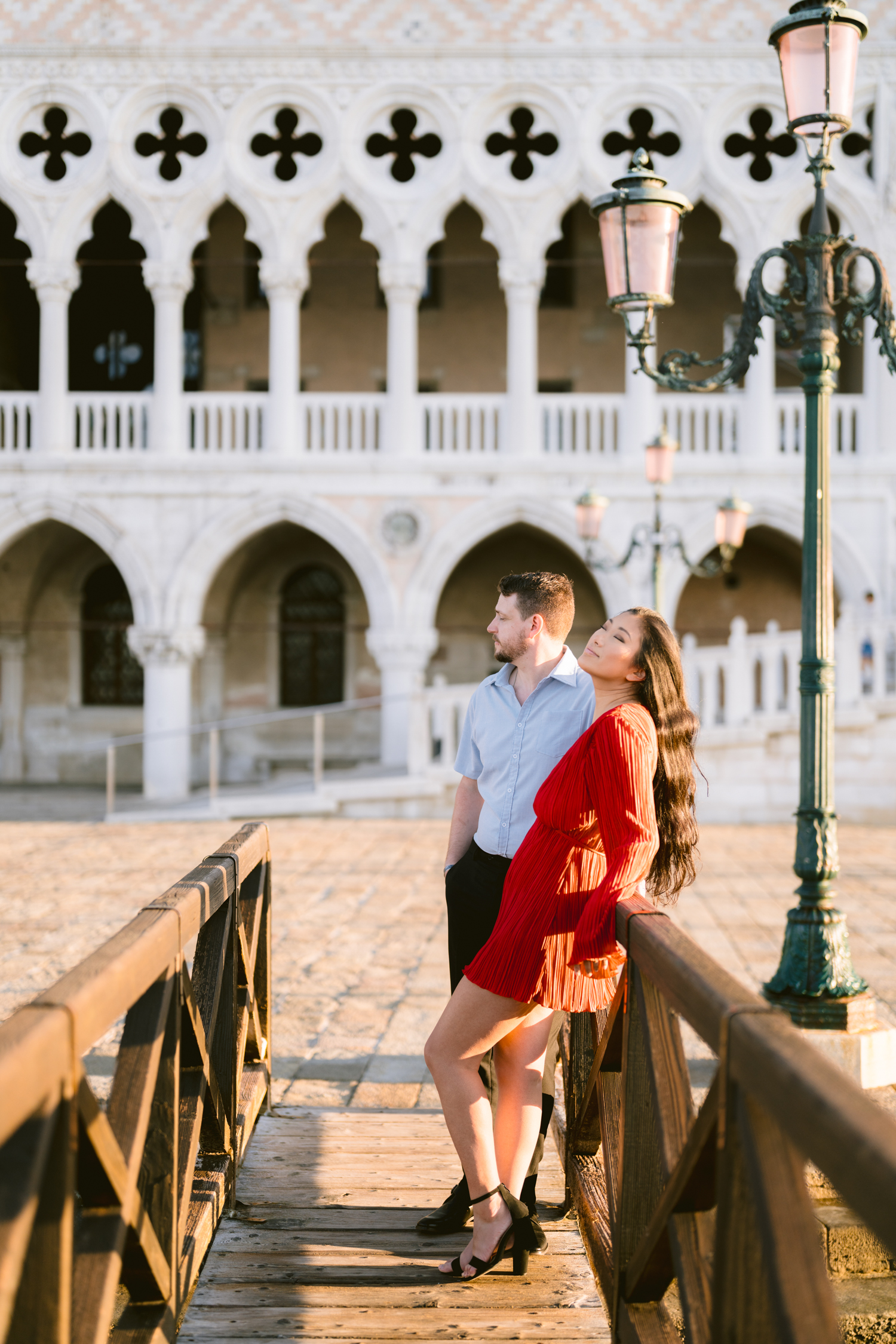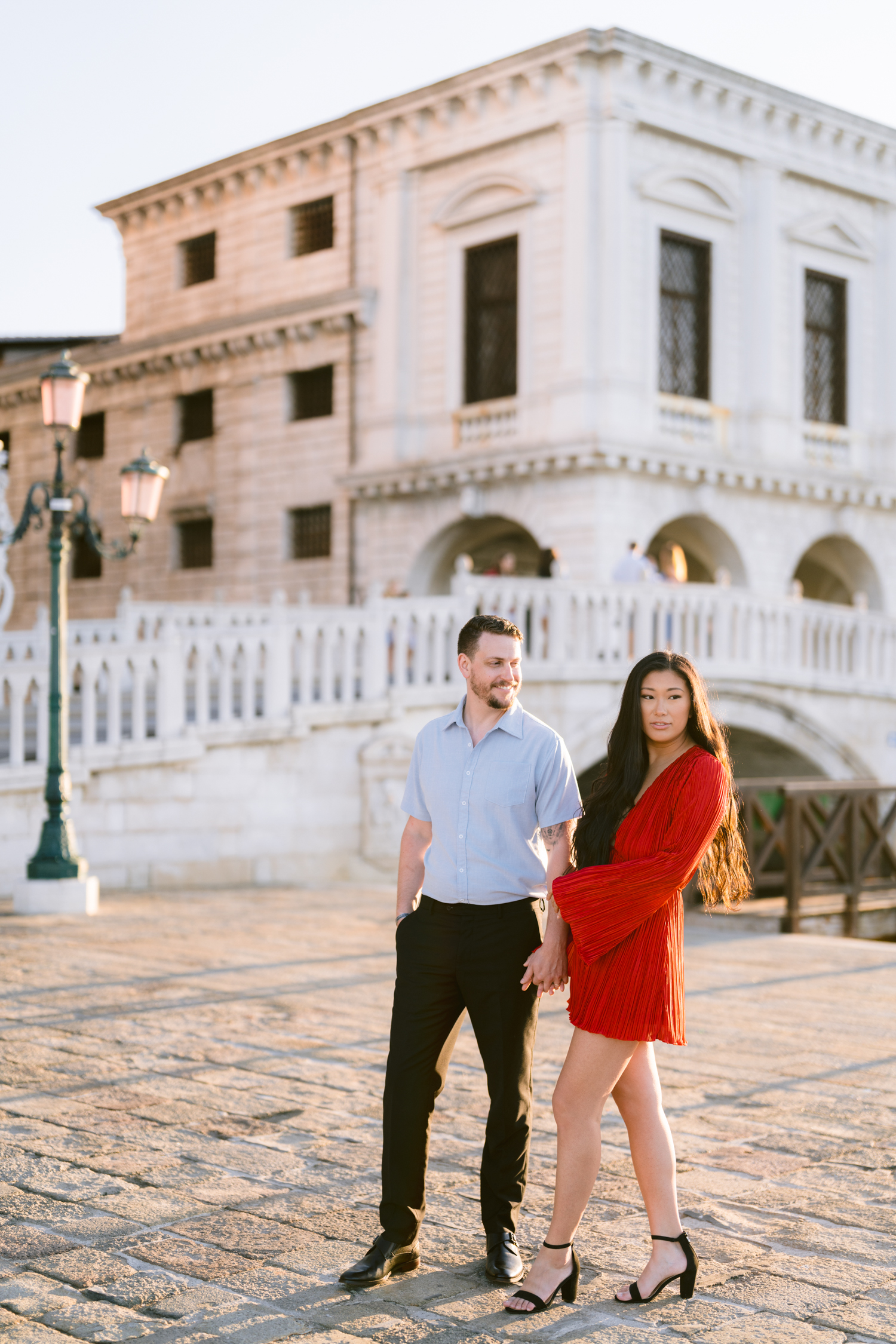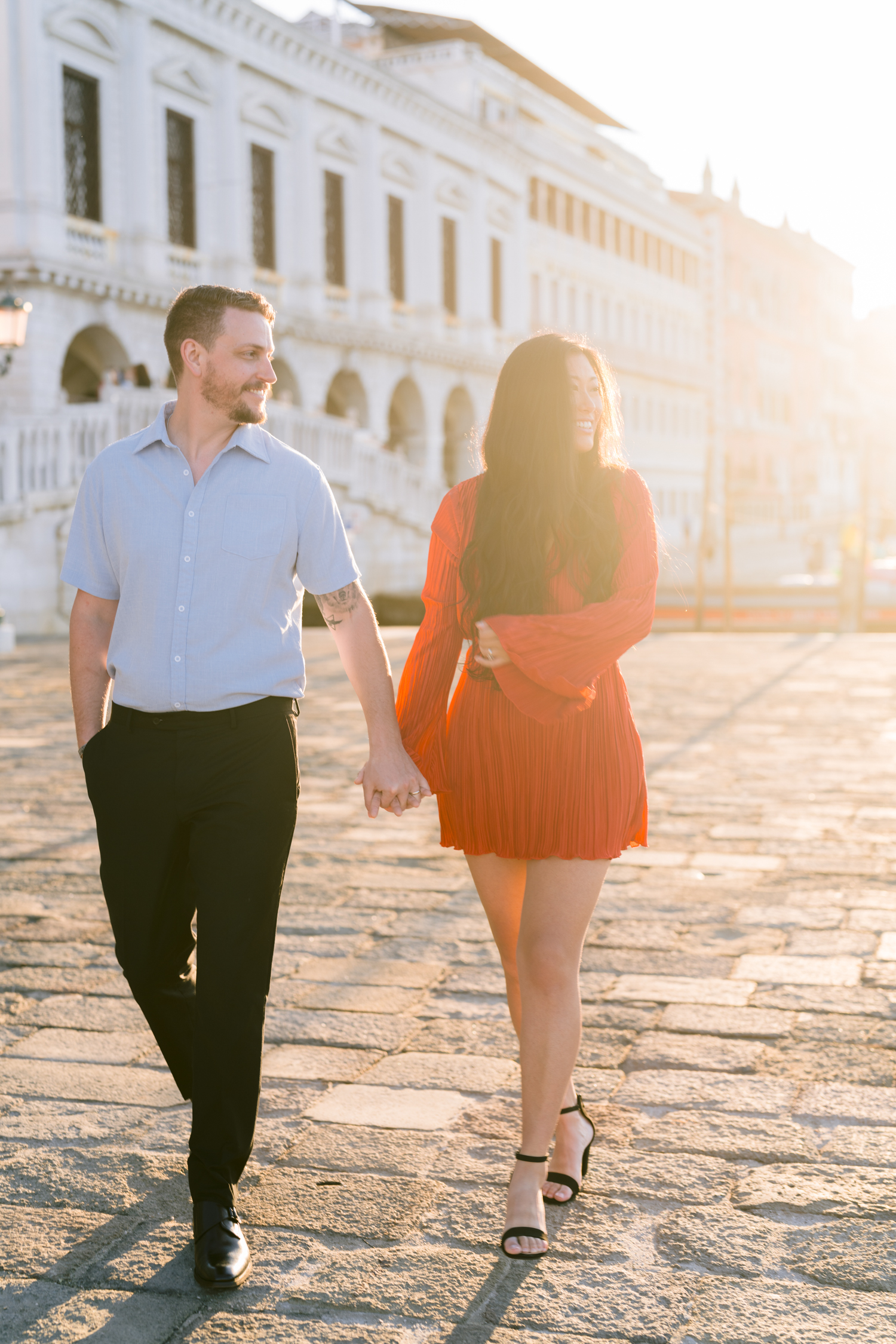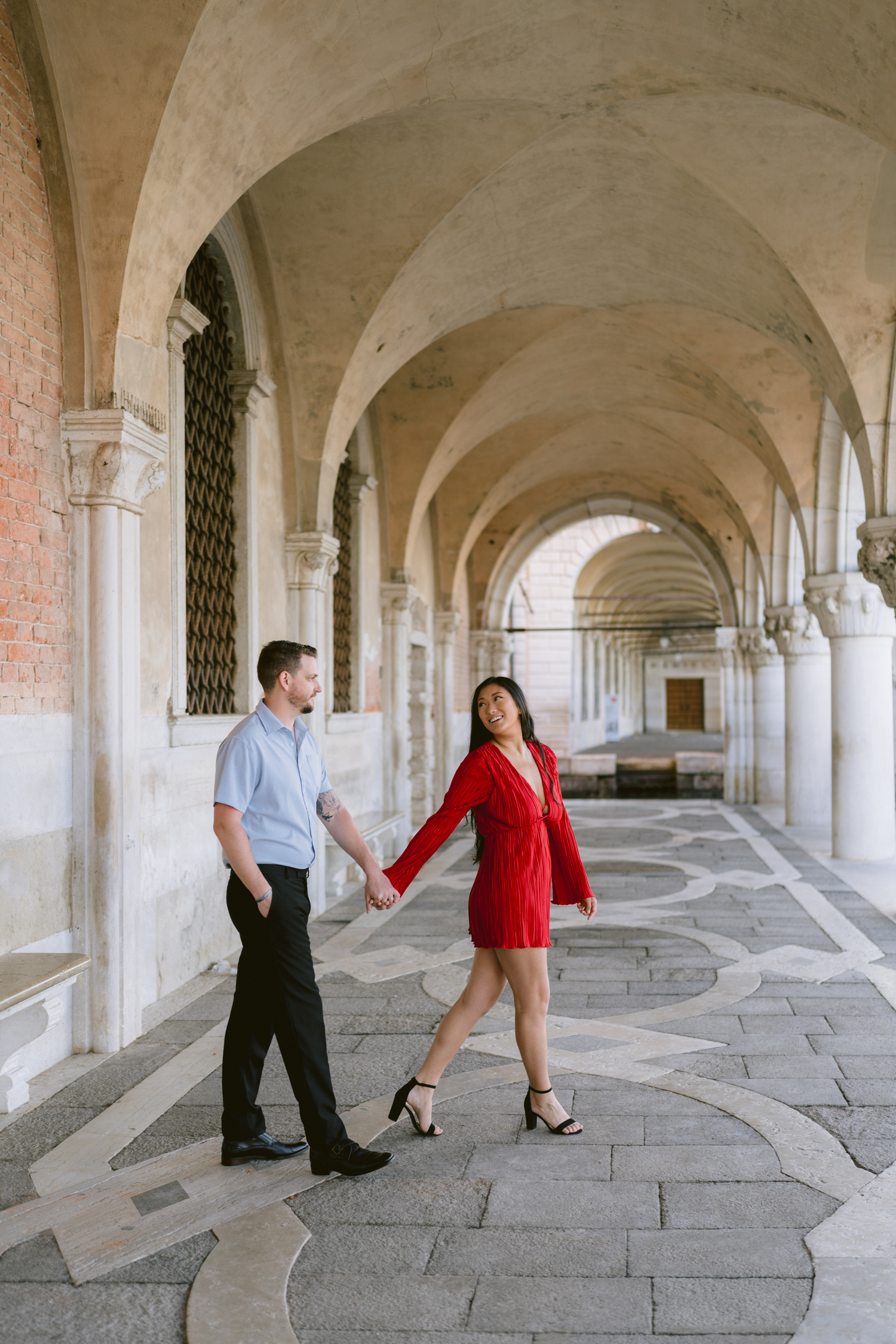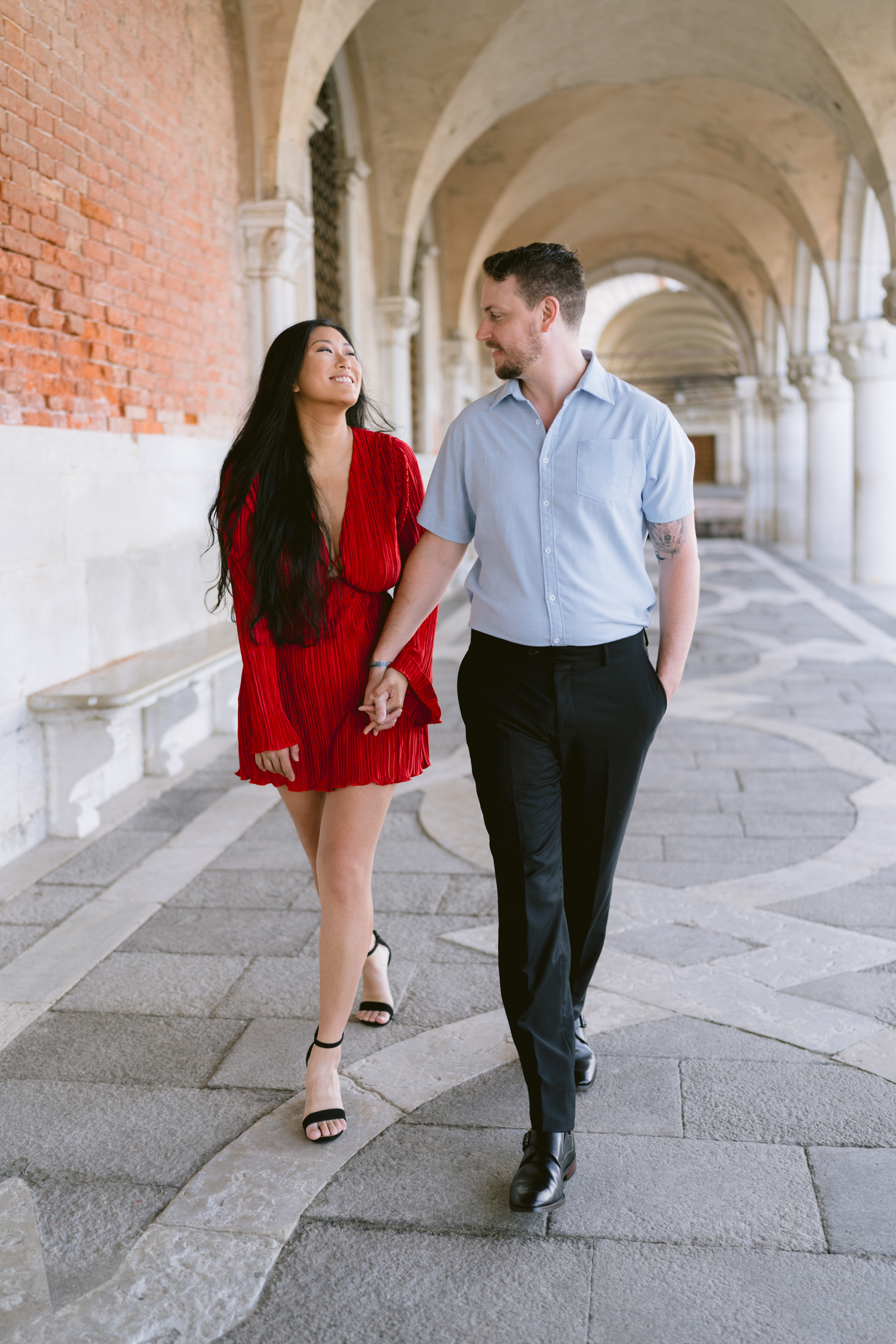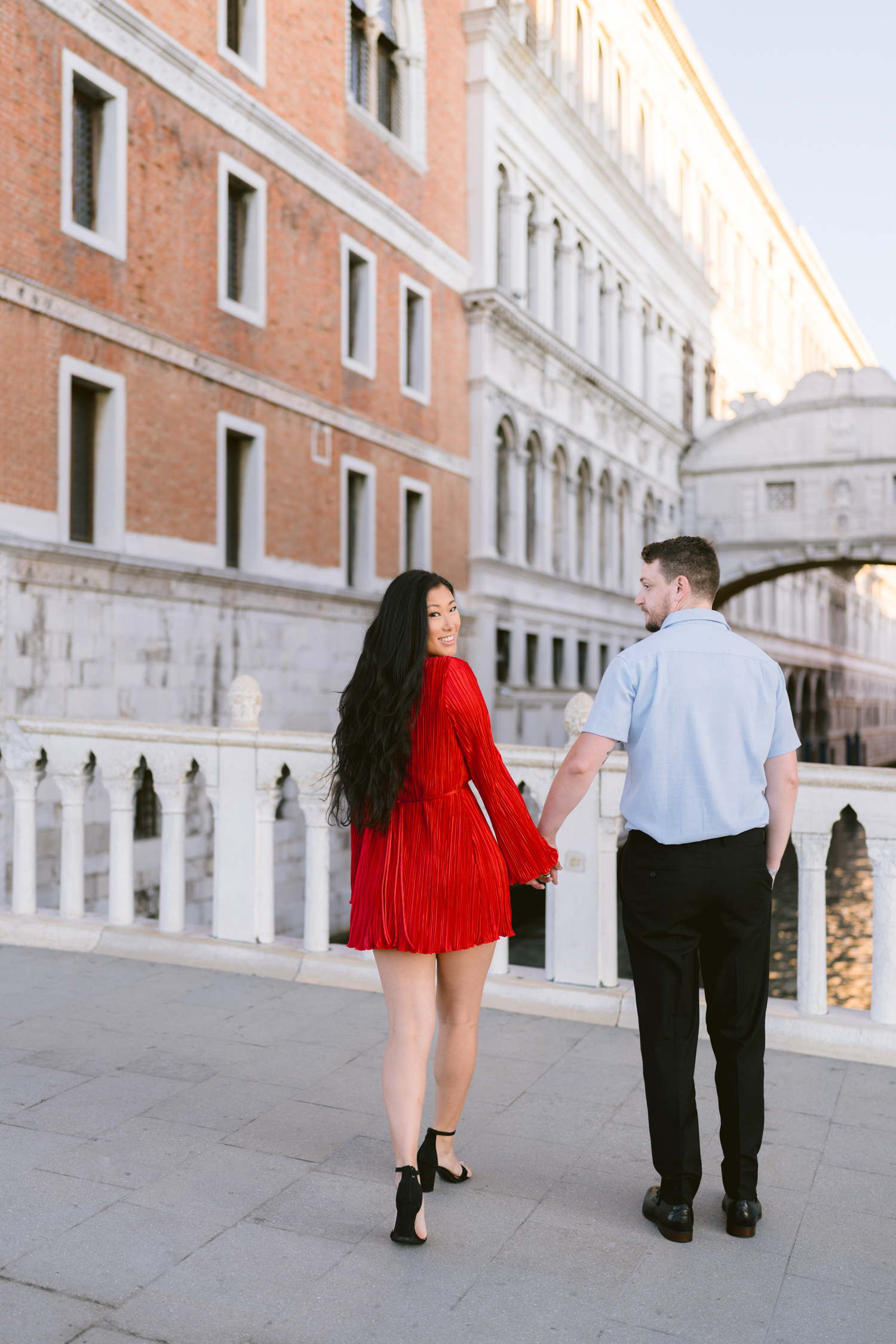 Accessories play a crucial role in completing your dreamy look. Consider adding elements like wide-brimmed hats, dainty headbands, or hair accessories adorned with flowers or pearls. These details can elevate your ensemble and add an extra touch of elegance.
Remember, the goal is to create a cohesive and harmonious aesthetic that reflects the romantic atmosphere of Venice. By carefully selecting your honeymoon photoshoot outfits and accessories, you'll ensure that every frame captures the magic of this enchanting city.
If you're looking for a romantic session in the floating city, wait no longer to explore our latest projects. If our way to see the beauty and love coincides with yours, wait no longer to book the slot.