Alina Venice proposal photographer. Top Photographer in Venice. Surprise Proposal Photographer in Venice. Book proposal photographer in Venice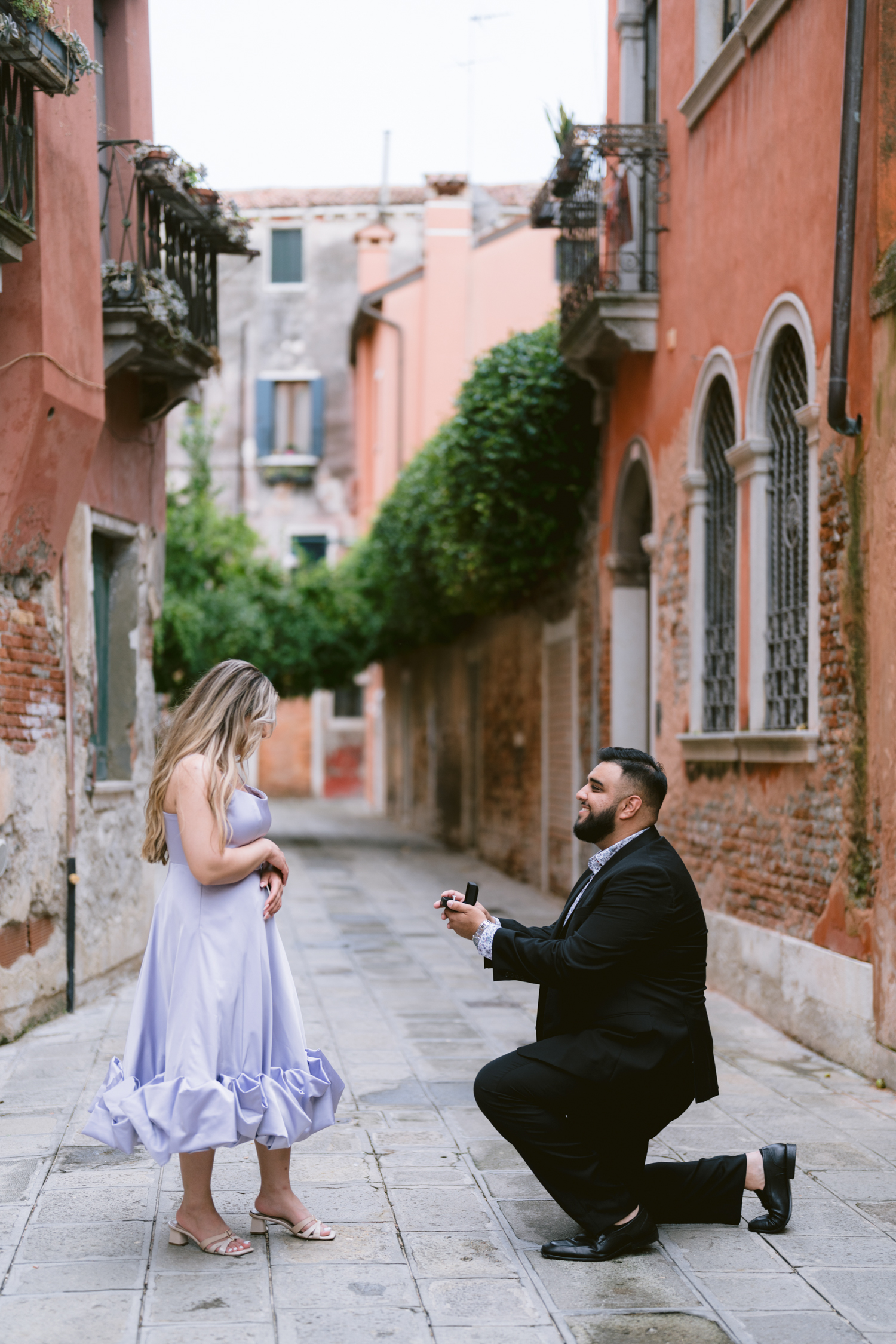 Venice, the city of love and enchantment, has long been hailed as one of the most romantic destinations in the world. With its picturesque canals, stunning architecture, and timeless charm, it's no wonder that countless couples have chosen this magical city as the backdrop for their unforgettable proposals.
If you're looking to pop the question in Venice, you're in for a treat. The possibilities for a romantic proposal are endless. From gondola rides along the Grand Canal to strolling hand-in-hand through narrow alleyways adorned with charming bridges, every corner of this city exudes romance.
But where are the best places to propose? Fear not! We've curated a list of some of the most enchanting spots that will make your proposal photoshoot in Venice truly special. Whether it's on a gondola under a moonlit sky or at one of Venice's iconic landmarks like St. Mark's Square or Rialto Bridge, these locations will set the stage for an unforgettable moment.
So if you're dreaming of a proposal with romance and beauty, look no further than Venice. Let this captivating city be witness to your love story as you embark on an extraordinary journey together. Book proposal photographer in Venice
Step 1: Research and Plan Ahead for a Flawless Proposal Experience.
Surprise Proposal Photographer in Venice
Planning a flawless proposal experience requires careful research and meticulous organization. It's essential to plan. In this section, we'll explore some valuable proposal planning tips that will help you find the perfect location and ensure everything runs smoothly.
The first step in planning your proposal is conducting thorough research. This involves identifying your partner's preferences, interests, and any special locations that hold significance for them. By understanding their likes and dislikes, you can tailor the experience to their taste and create a truly memorable moment.
Finding the perfect location is crucial for setting the right ambiance. Consider places that hold sentimental value or reflect shared memories. It could be a favorite park, a scenic overlook, or even an intimate restaurant. Additionally, researching unique venues or hidden gems can add an element of surprise to your proposal.
Once you've settled on a location, it's important to make any necessary reservations well in advance. This includes booking tables at restaurants or securing permits for public spaces if required. By taking care of these logistical details early on, you can ensure that everything goes according to plan on the big day.
In this section, we'll delve deeper into each of these steps and provide practical tips to help you navigate the process of planning a flawless proposal experience. So let's get started!
Step 2: Choosing the Perfect Location for Your Proposal Moment
. Book proposal photographer in Venice
When it comes to planning the perfect proposal, choosing the right location is key. You want a setting that will create a memorable and romantic moment for both you and your partner. In this section, we will explore some incredible options for capturing the "YES" moment by your Venice proposal photographer.
One of the most iconic spots in Venice is Piazza San Marco. Imagine getting down on one knee in this bustling square, surrounded by stunning architecture and the vibrant energy of the city. It's a grand gesture that is sure to leave a lasting impression.
For a more intimate and picturesque proposal, consider a gondola ride. Venice is famous for its canals, and what better way to pop the question than on a private gondola? As you glide through the waterways, taking in the sights and sounds of Venice, you can create an unforgettable moment that your partner will cherish forever.
If you're looking for a breathtaking backdrop for your proposal, consider timing it with a sunset at Rialto Bridge. This iconic bridge offers stunning views of the Grand Canal and is known for its romantic atmosphere. As the sun sets over Venice, it sets the stage for an incredibly romantic moment. Book proposal photographer in Venice
For those who want to combine romance with fine dining, a romantic dinner cruise on the Grand Canal is an excellent choice. Picture enjoying delicious Italian cuisine while cruising along one of Venice's most famous waterways. The combination of good food, beautiful scenery, and your heartfelt proposal will make this an unforgettable experience.
In this section, we will delve deeper into each option mentioned above and provide insights on how to make each location even more special for your proposal moment in Venice.
Step 3: Adding Personal Touches to Make Your Proposal Unique and Meaningful
. Alina Venice proposal photographer
Now that you have laid the foundation for your proposal, it's time to add those personal touches that will truly make it stand out. This step is all about infusing your heartfelt emotions into the words you write and incorporating elements that are unique to your relationship or the location of your proposal. Surprise Proposal Photographer in Venice
One way to add a personal touch is by writing a heartfelt letter or poem. Take some time to reflect on your feelings and express them genuinely and sincerely. Let your partner know exactly why they mean so much to you and why this moment is so special.
If you're planning a proposal in Venice, for example, consider incorporating Venetian traditions or symbols into your proposal. Venice is famous for its rich cultural heritage, so why not embrace it? You could include elements such as gondolas, masks, or even the beautiful architecture of the city in your proposal plan.
Another idea is to involve local musicians or artists in your proposal. Imagine serenading your partner with a romantic song played by a local musician or having an artist create a custom piece of art inspired by your love story. These gestures not only add an element of surprise but also showcase the beauty of the location you have chosen.
Remember, adding personal touches shows thoughtfulness and effort on your part. It demonstrates that you have taken the time to create something truly unique and meaningful for this special moment between you and your partner. So let your creativity flow and make this proposal an unforgettable experience for both of you. Alina Venice proposal photographer
Step 4: Capturing the Moment with Beautiful Photos or Video Souvenirs
When it comes to capturing those special moments, hiring a professional photographer in Venice or a videographer can make all the difference. They have the expertise and equipment to ensure that you will remember your beautiful moments. Surprise Proposal Photographer in Venice
In a romantic city like Venice, finding the perfect photo spots for proposals is essential. From the iconic gondolas gliding through the canals to the enchanting bridges and narrow streets, there are countless picturesque locations to choose from. A professional photographer/videographer familiar with Venice will know exactly where to go to capture those magical moments.
Whether you're planning a surprise proposal or simply want stunning photos or videos as souvenirs of your time in Venice, investing in professional services will ensure that you have high-quality images that truly capture the essence of your experience.
So, take that extra step and hire a professional photographer and videographer in Venice. They will help you create lasting memories that you can cherish for years to come.
Step 5: Celebrating Your Engagement with a Memorable Dinner or Experience in Venice
. Alina Venice proposal photographer
 
Now that you're ready to tie the knot. Consequently, it's time to celebrate this special milestone in a truly memorable way. Venice, with its romantic charm and enchanting atmosphere, offers a plethora of options for creating lasting memories as an engaged couple.
When it comes to fine dining choices for celebrating engagements in Venice. You'll be spoiled for choice. From Michelin-starred restaurants, such as Oro,  to intimate trattorias, like Al Covo, tucked away in picturesque alleyways, the city boasts a vibrant culinary scene that caters to all tastes and preferences. Indulge in delectable Italian cuisine paired with exquisite wines while basking in the ambiance of Venetian elegance.
What else can you do in Venice?
But why limit yourself to just a dinner when unique experiences are awaiting you? Consider taking a gondola ride through the iconic canals of Venice, hand-in-hand with your partner as you soak up the romance of the city. Or perhaps book a private boat tour at sunset, allowing you to witness the breathtaking beauty of Venice's architecture against the backdrop of golden hues.
For those seeking something truly extraordinary, why not arrange a private serenade by local musicians? Imagine being serenaded under the stars as you enjoy an intimate moment together. This personalized touch will undoubtedly create an unforgettable memory that will be cherished for years to come.
Venice is renowned for its art and culture, so why not immerse yourselves in it? Attend an opera performance at Teatro La Fenice or visit one of the city's renowned art museums. These experiences will not only enrich your engagement celebration. It will also deepen your appreciation for Venetian history and heritage.
Remember, this is your special moment as an engaged couple, so choose an experience that resonates with both of you. Whether it's indulging in fine dining delights or embarking on unique adventures, let Venice be the backdrop for creating memories that will last a lifetime.
If you're looking for more tips for your perfect proposal photo shoot in Venice, read this guide from Brides Magazine. Here you find inspiration for your upcoming proposal.
If you're ready to book your proposal photographer in Venice, we are ready to help you realize your dream. Contact us via email and let us know about your ideas.