Book Venice proposal photographer. Surprise proposal photographer in Venice
5 Tips for Finding the Perfect Surprise Marriage Proposal Photographer in Venice
1. Research and Identify Top Photographers Specializing in Surprise Marriage Proposals
So, you're ready to pop the question and want to capture that magical moment forever? Well, you've come to the right place! Finding a photographer who specializes in surprise marriage proposals can make all the difference in capturing those priceless reactions and emotions.
First things first, let's narrow down your search. Are you planning on proposing in Venice? This romantic city is known for its picturesque backdrops and dreamy ambiance, making it a popular destination for surprise proposals. Lucky for you, there are plenty of talented photographers in Venice who specialize in this kind of photography.
To make your search easier, start by looking for a professional proposal photographer in Venice who has experience capturing surprise moments. These photographers have a knack for blending into the background while still capturing every heartfelt moment without spoiling the surprise.
Take some time to research and identify the top photographers specializing in surprise marriage proposals in Venice. Look for portfolios that showcase their ability to capture genuine emotions and candid reactions. Reading reviews from previous clients can also give you valuable insights into their professionalism and reliability.
Remember, finding the perfect photographer is essential to ensure that your proposal is beautifully documented. So take your time, do your research, and get ready to create memories that will last a lifetime!
2. Review Their Portfolio and Style to Ensure they Capture Magical Moments
When it comes to capturing those magical moments, finding the right wedding photographer is crucial. One way to ensure they have the skills and style you're looking for is by reviewing their portfolio. Take a look at their previous work and see if it aligns with your vision for your special day.
Pay attention to their proposal photography style as well. Are they able to capture candid moments that truly reflect the emotions of the moment? Look for photos that evoke a sense of romance and intimacy, as these are often the ones that will bring back all those cherished memories.
Remember, finding a Venice proposal photographer who can capture those magical moments requires more than just technical skills. It's about finding someone who understands your vision and can translate it into stunning photographs that will be treasured for years to come.
3. Read Reviews and Testimonials from Previous Clients for Feedback on their Services. Book Venice proposal photographer
If you're looking for a surprise proposal photographer in Venice, it's always a good idea to read reviews and testimonials from previous clients. These can give you valuable insights into the photographer's services and their ability to capture those special moments.
By checking out Venice surprise proposal photographer reviews, you can get a sense of how satisfied other couples were with the photographer's work. Did they feel comfortable during the shoot? Was the photographer able to capture genuine emotions? Did they deliver high-quality photos?
Client testimonials are like little windows into the experience of working with a proposal photographer. They can provide you with honest feedback on things like professionalism, communication skills, and overall satisfaction. Reading these testimonials can help you make an informed decision when choosing a surprise proposal photographer.
So take some time to browse through reviews and testimonials from previous clients. Their feedback will give you a better understanding of what to expect from different photographers and ultimately help you find the perfect fit for your surprise proposal.
4. Discuss Your Vision and Expectations with the Photographer to Ensure They Understand Your Needs
When it comes to capturing your special moments, it's crucial to have a clear vision and expectations for your wedding photo shoot. One of the best ways to ensure that your photographer understands your needs is through open communication.
Start by sharing your wedding photo shoot ideas with the photographer. Whether you envision a romantic beachside setting or a rustic countryside backdrop, let them know what you have in mind. Discussing these details will help them align their creative approach with your vision.
If you're planning a surprise marriage proposal during the shoot, make sure to communicate this with the photographer as well. Sharing the details and timing of the proposal will allow them to capture those precious moments without missing a beat.
Remember, effective communication is key in ensuring that your photographer can deliver exactly what you're looking for. So don't hesitate to discuss and express your expectations openly – after all, it's about capturing memories that will last a lifetime!
5. Consider Their Availability and Pricing to Find a Photographer that Fits Your Budget and Schedule
When it comes to finding a photographer for your special occasion in Venice, two key factors to consider are their availability and pricing. After all, you want someone who fits both your budget and schedule.
Venice is a popular destination, so it's important to check the availability of photographers in the area. You don't want to be disappointed by finding out that your preferred photographer is already booked on your desired date. Make sure to reach out and inquire about their availability as early as possible.
Budget is another crucial aspect to consider. Everyone has different financial constraints, so it's essential to find a photographer who offers services within your budget. Look for a photographer in Venice who can capture those precious moments realizing your ideas.
Additionally, keep in mind that pricing may vary depending on the type of photography service you require. For example, marriage proposal photography prices may differ from general event or portrait photography rates. Be sure to discuss your specific needs with potential photographers and ask for detailed pricing information. Book Venice proposal photographer
By considering both availability and pricing, you can find a photographer in Venice that not only fits your budget but also aligns with your schedule for capturing those unforgettable moments.
In Conclusion: Capture Unforgettable Moments with a Surprise Marriage Proposal Photographer in Venice!
Please note that these are just suggestions for your blog topic outline. Feel free to modify or expand upon them as per your requirements! Book Venice proposal photographer
In conclusion, if you're planning a surprise marriage proposal in Venice, don't forget to capture the unforgettable moment with a surprise marriage proposal photographer!
Venice is known for its romantic atmosphere and stunning backdrops, making it the perfect location for popping the question. Hiring a professional photographer to document this special occasion ensures that you'll have beautiful and high-quality photos to cherish for a lifetime.
A surprise marriage proposal photographer in Venice knows all the best spots and angles to capture those genuine emotions and reactions. They can discreetly capture your partner's surprised face when they realize what's happening, as well as the joy and love that follows.
Imagine being able to relive that magical moment through stunning photographs – sharing them with family and friends or even using them for engagement announcements. It's a way to make your proposal even more memorable.
So, when planning your surprise marriage proposal in Venice, make sure to include hiring a surprise marriage proposal photographer in Venice on your checklist. They will help you capture those precious moments of love and happiness that you'll treasure forever.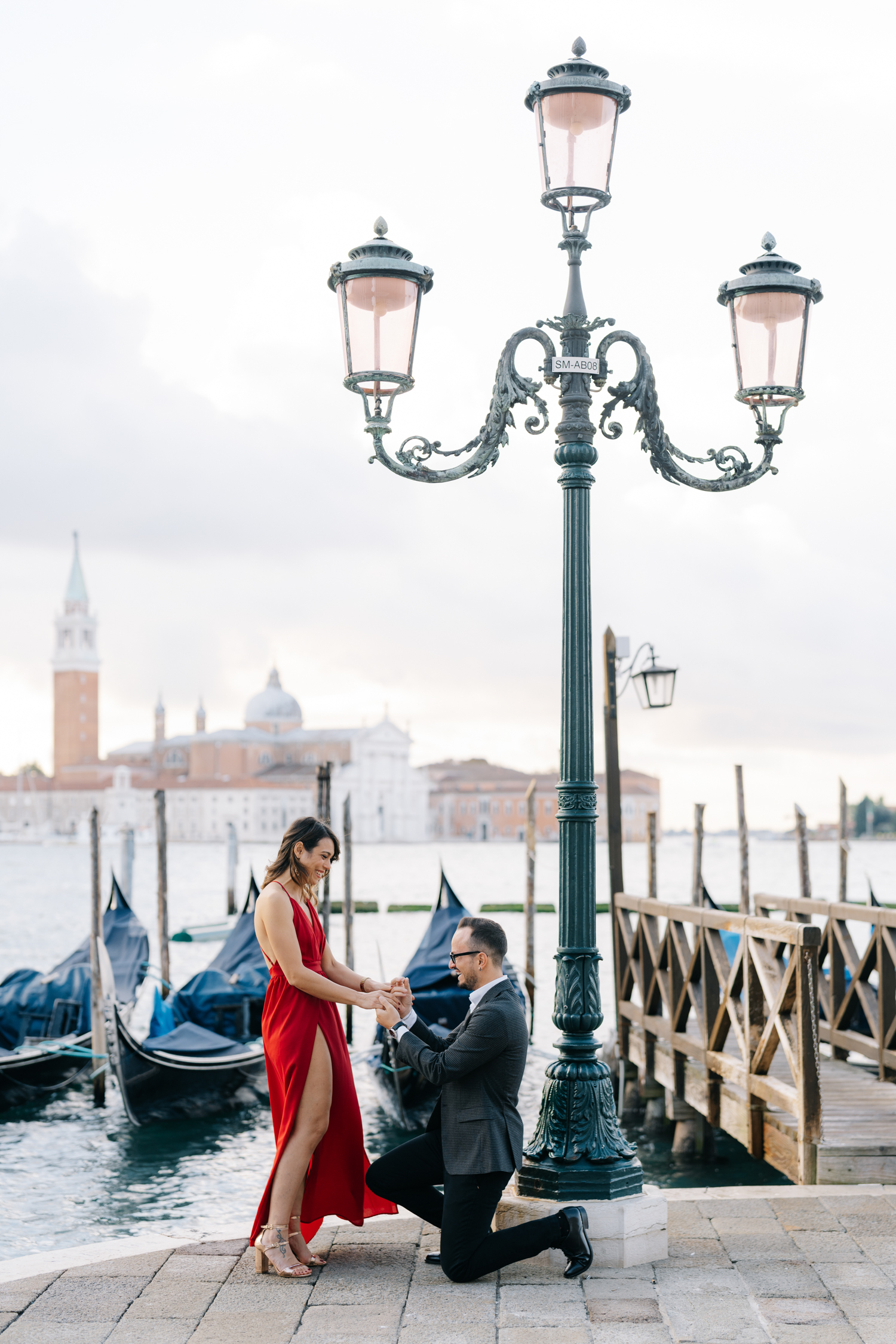 Learn more about Venice Surprise Photoshoots.
This guide on how to propose on vacation abroad will help you to plan your engagement in Italy.