Same-sex Surprise Proposal in Venice. Gay Photographer in Venice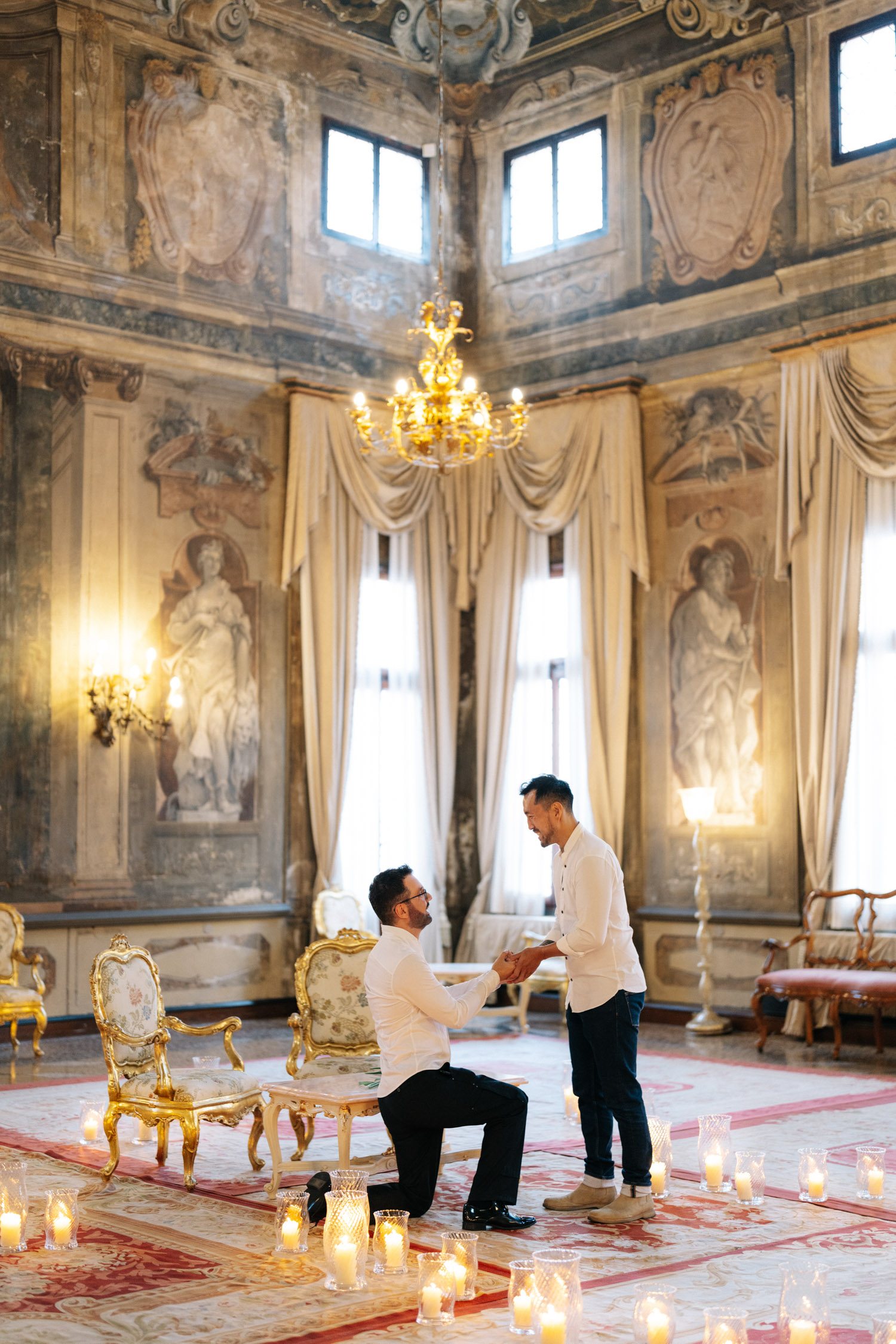 Are you thinking about popping the question to your partner in a same-sex surprise proposal in Venice? That's absolutely amazing! And if you're looking for the perfect destination that's both romantic and LGBTQ+-friendly, then Venice should definitely be on your radar.
Venice is known for its enchanting canals, stunning architecture, and timeless charm. It's a city that exudes romance from every corner, making it an ideal backdrop for a truly memorable proposal. Whether you're strolling hand-in-hand along the picturesque streets or taking a gondola ride through the winding canals. Venice sets the stage for an unforgettable moment.
Not only is Venice visually stunning, but it also embraces diversity and inclusivity. As one of the most LGBTQ+-friendly destinations in Europe, you'll feel welcomed and accepted as you celebrate your love. From cozy cafes to luxurious hotels, Venice offers countless options for creating a personalized and intimate experience that reflects your unique relationship.
So if you're looking for romantic proposal ideas and want to create a magical memory that will last a lifetime, consider Venice as your dream destination. Get ready to sweep your partner off their feet in this breathtaking city of love!
Choosing the Right Location for Your Surprise Proposal in Venice
Planning a surprise proposal in Venice? You've come to the right place! Choosing the perfect location for this special moment can make all the difference. Let's explore some of the most romantic spots in Venice that will leave your partner speechless.
One popular option is the iconic Rialto Bridge. Imagine getting down on one knee with the picturesque Grand Canal as your backdrop. It's a classic and timeless choice that will surely create a memorable experience.
Another enchanting spot is St. Mark's Square, known for its stunning architecture and lively atmosphere. With its beautiful surroundings and historical significance, it sets a romantic stage for your proposal.
For a more unique and intimate experience, consider surprising your partner with a gondola ride proposal. Drifting along the serene canals of Venice, you'll have privacy and an idyllic setting to pop the question.
And of course, let's not forget about the Grand Canal itself. With its grandeur and charm, finding a hidden corner or waterfront spot along this famous waterway can add an extra touch of romance to your proposal.
Remember, choosing the right location is just one piece of the puzzle. The most important thing is to be genuine and heartfelt in your words when you ask that life-changing question. Good luck with creating an unforgettable surprise proposal in beautiful Venice!
Learn more about a gay Proposal Photoshoot in Venice by following this article.
If you're still wondering who Asks in an LGBTQIA+ Proposal, this article will provide you with answers.