Choosing the ideal location is key to creating a memorable and romantic moment. With its picturesque canals, stunning architecture, and enchanting atmosphere. Undoubtedly, Venice offers plenty of options for finding the perfect spot. Venice Photographer Surprise Proposal
One of the first considerations is capturing a breathtaking sunset backdrop. Indeed, Venice boasts some of the most beautiful sunset locations that will add a touch of magic to your proposal. From the iconic St. Mark's Square to lesser-known spots like Giudecca Island or San Giorgio Maggiore. There are numerous places where you can witness a mesmerizing sunset with your loved one.
For those seeking a truly romantic setting. Without a doubt, Venice offers an abundance of photo-worthy spots. Imagine proposing on one of its iconic bridges like the Rialto Bridge or Bridge of Sighs, with the gondolas gliding beneath you and the shimmering canal waters reflecting your love.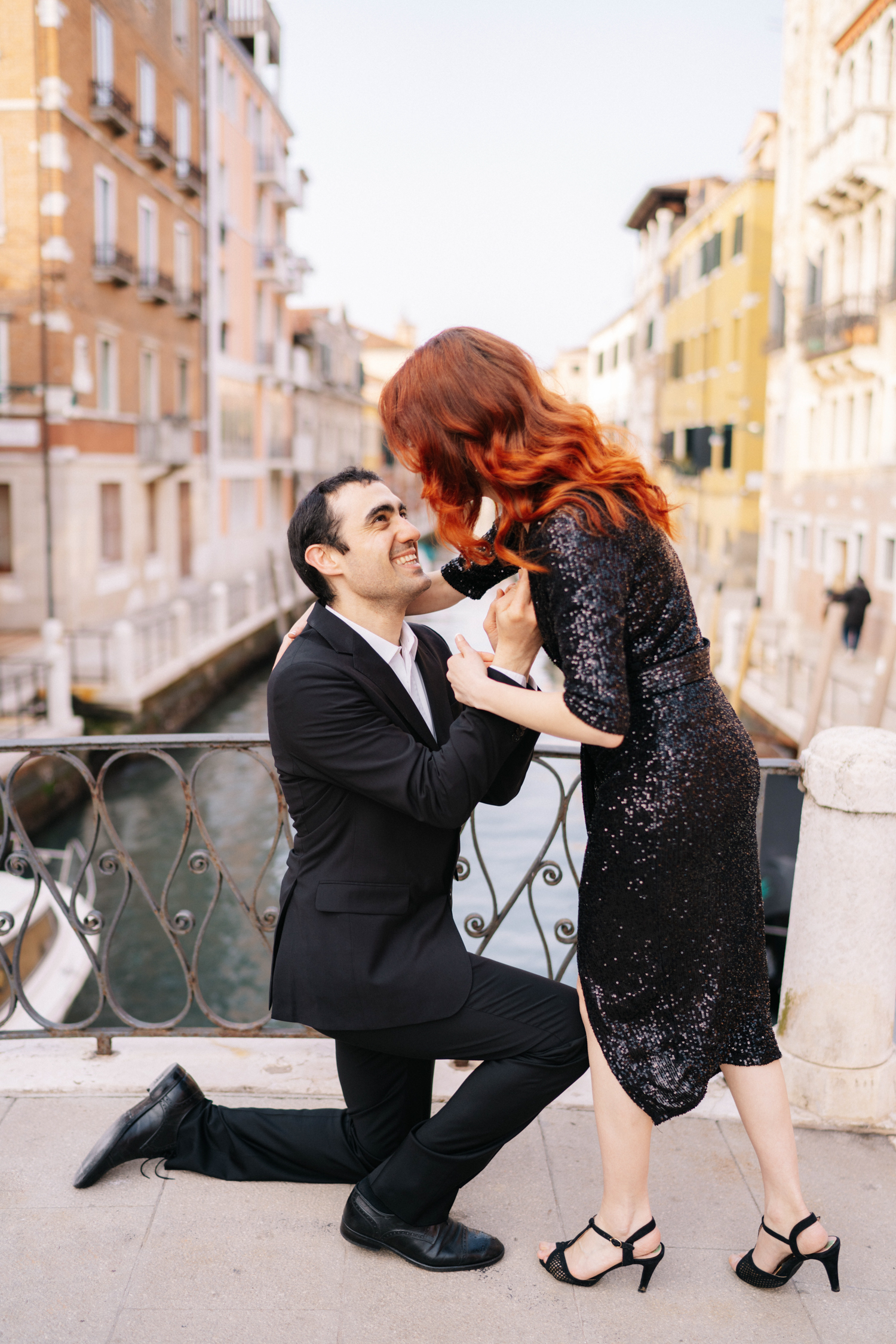 Additionally, exploring quieter corners of Venice can lead you to hidden gems that are perfect for intimate proposals. From charming squares like Campo Santa Margherita to quaint alleyways and canal-side cafes in Dorsoduro or Cannaregio districts, these less crowded areas offer a more private and personal ambiance for your special moment. Venice Photographer
Ultimately, choosing the ideal location for your proposal photoshoot in Venice depends on your preferences as a couple. Whether you prefer grandeur or intimacy, iconic landmarks or hidden treasures – this city has it all. So take some time to research and explore different options before deciding on that one spot that will make your proposal unforgettable. Venice Photographer
Setting the Stage for an Unforgettable Moment
. Venice Photographer Surprise Proposal. Venice Photographer
Picture this: the sun slowly descending, casting a warm glow across the picturesque city of Venice. The air is filled with anticipation and excitement as a couple strolls along the canal, hand in hand. Little do they know that this evening holds an unforgettable moment that will forever change their lives.
Surprise proposals have long been a cherished tradition, but imagine taking it to the next level with a sunset surprise proposal in Venice. This enchanting city sets the perfect backdrop for a romantic declaration of love and commitment. As the golden hour approaches, whispers of nerves mingle with whispers of excitement.
But why stop at just a surprise proposal? Capture this magical moment forever with a surprise engagement photoshoot. Imagine the look on your partner's face when they realize not only are they being proposed to, but also that their reaction is being immortalized through stunning photographs.
In this section, we will explore various surprise proposal ideas and delve into the details of planning an unforgettable sunset surprise proposal in Venice. From choosing the perfect location to booking the top Venice Photographer. We'll guide you through creating a moment that will be etched in your hearts forever. Contact us via email or Instagram for more details.
Get ready to embark on a journey filled with romance and anticipation as we set the stage for an unforgettable moment – one that will become your own personal love story captured through timelessly beautiful photographs.