Top Venice Photographer. Venice couples session
Welcome to the enchanting city of Venice, where time seems to stand still and love fills the air. If you're planning a romantic getaway or celebrating a special occasion with your loved one, what better way to capture those timeless memories than with a couples photoshoot in this picturesque city?
Venice offers a plethora of stunning backdrops for your romantic photoshoot. From the iconic canals and gondolas to the charming cobblestone streets and historic architecture, every corner of this city is brimming with beauty and romance.
To ensure that your photos truly capture the essence of your love story, we've gathered some dressing tips that will help you look effortlessly stylish during your shoot. Do you prefer classic elegance or contemporary chic? We'll guide you on how to dress in a way that complements both your personal style and the romantic ambiance of Venice.
Our expert Venice photographers are well-versed in capturing intimate moments and creating stunning compositions. They know all the hidden gems and secret spots that will add an extra touch of magic to your photographs. With their guidance and expertise, you can relax and enjoy each other's company while they work their magic behind the lens.
So, whether you're planning an engagement or anniversary photoshoot in Venice, or simply want to create beautiful memories together, let us guide you through the enchanting world of a couple's photoshoot in Venice. Get ready for an unforgettable experience filled with love, laughter, and breathtaking images that will transport you back to this romantic city whenever you glance at them.
Choosing the Right Outfits: Reflecting Your Personal Style and Enhancing the Venetian Backdrop
. Top Venice Photographer
When it comes to choosing the right outfits for a photoshoot in Venice, there are a few key factors to consider. Top Venice Photographer
First and foremost, you want your outfits to reflect your personal style and showcase who you are as a couple. This will ensure that the photos capture your unique personality and love story.
In addition to personal style, it's important to think about how your outfits will enhance the backdrop of Venice. The city is known for its romantic charm and picturesque scenery, so you'll want to choose outfits that complement this aesthetic. Think about incorporating soft colors, flowing fabrics, and timeless silhouettes that evoke a sense of elegance.
Whether you're going for a casual or formal look, remember that comfort is key. You want to feel confident and at ease during the session with your Venice photographer. So choose outfits that make you feel comfortable in your own skin.
By carefully selecting your outfits with these considerations in mind, you can create stunning photos that not only capture your love but also embody the enchanting vibes of Venice.
In a word:
Reflect on your personal style: showcase who you are as a couple.

Comfort is key: Optimal clothing choices that allow you to move freely and enjoy your time together.

Pick complementary colors: Coordinating your outfits while avoiding looking too matchy-matchy.

Venetian-inspired fashion: Incorporating local elements into your attire to blend seamlessly with the city's ambiance.
Paying Attention to Details: Accessories and Styling Tips for that Extra Wow Factor
. Venice couples session
When it comes to creating a memorable and stunning look, paying attention to the details is key. Whether you're getting ready for a special occasion or simply want to elevate your everyday style, incorporating the right accessories can make all the difference.
For couples looking to coordinate their outfits, choosing complementary accessories is a great way to showcase your unity and style. From matching watches or bracelets to coordinating colors and patterns, there are endless possibilities for expressing your individuality as a couple.
When it comes to hair and makeup, selecting the right styles can truly enhance your overall look. Whether you prefer an elegant updo or loose waves, finding hairstyles that complement your face shape and outfit can add that extra touch of glamour. Top Venice Photographer
Of course, no ensemble is complete without the perfect jewelry. From statement necklaces to delicate earrings, choosing pieces that complement your outfit can instantly elevate your style. Consider factors such as color coordination and balance when selecting jewelry pieces that will truly make an impact. Venice couples session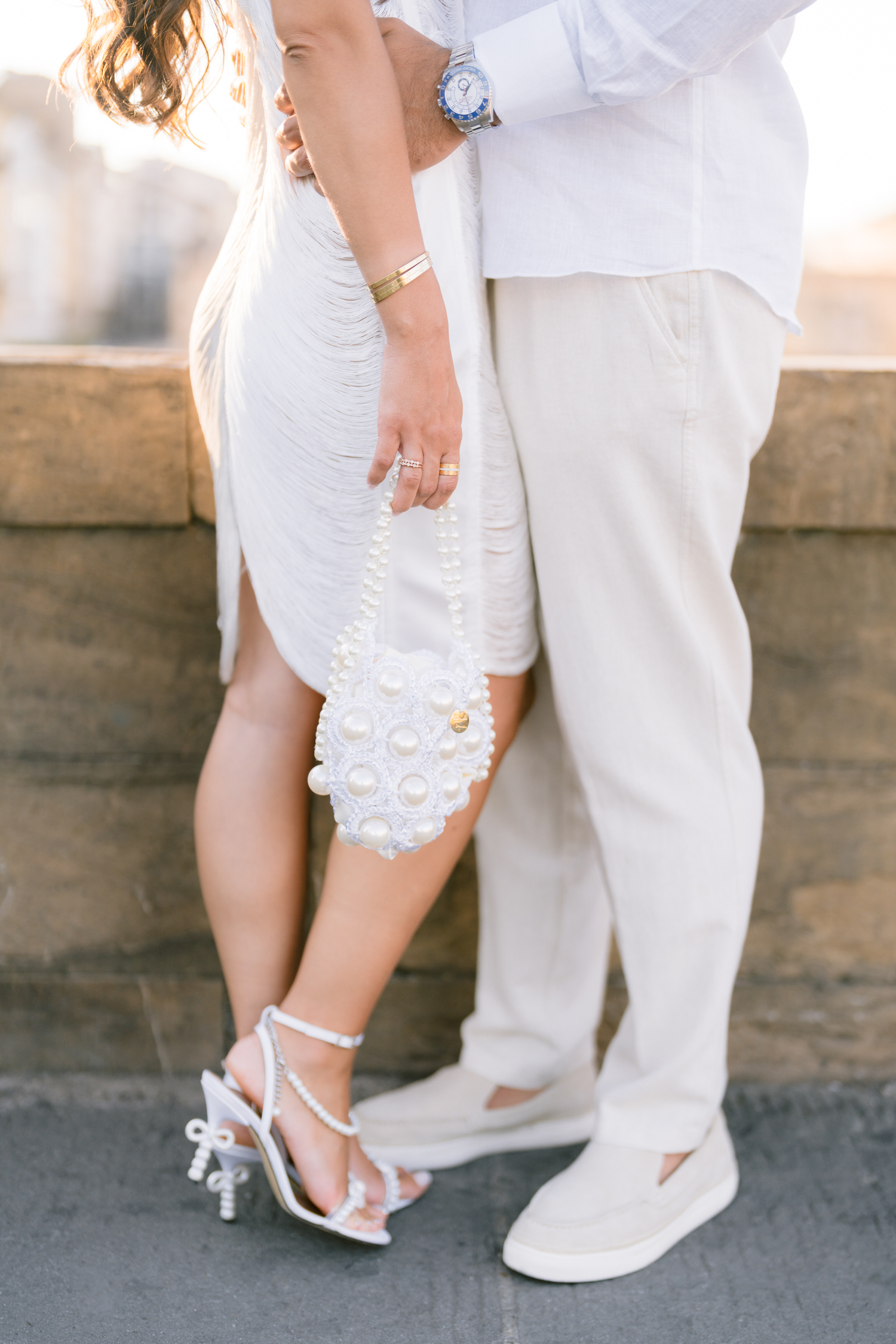 By paying attention to these details and incorporating these styling tips into your wardrobe choices, you'll be sure to achieve that extra wow factor with ease. So go ahead and embrace the power of accessories – they have the ability to transform any outfit from ordinary to extraordinary in an instant!
Summing up:
Add some flair: Choose accessories that enhance your outfits without overpowering them.

Glam up your hair and makeup: Tips for both men and women to achieve an effortlessly polished look.

The power of details: Subtle touches like matching watches or bracelets can elevate the overall feel of your photoshoot.
Clothing Considerations for Different Locations within Venice
When it comes to capturing the essence of Venice in your photoshoot, clothing choices play a crucial role. Each location within this enchanting city offers a unique backdrop that can greatly influence your outfit decisions.
Consider the iconic Venetian landmarks as your starting point. For instance, if you're planning to shoot near the magnificent St. Mark's Square, opt for elegant and sophisticated attire that complements the grandeur of the surroundings. Think classic dresses or suits with a touch of Venetian flair.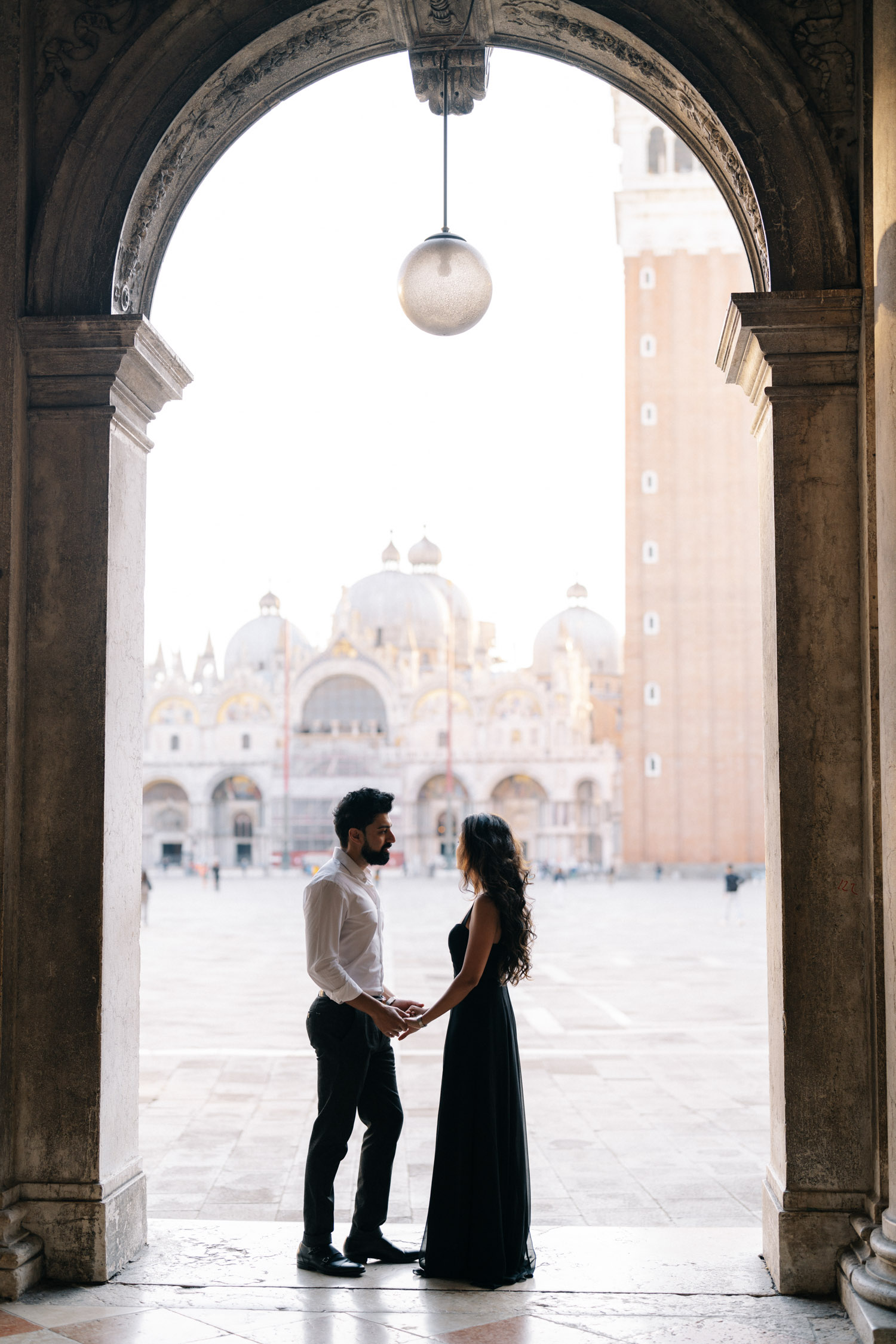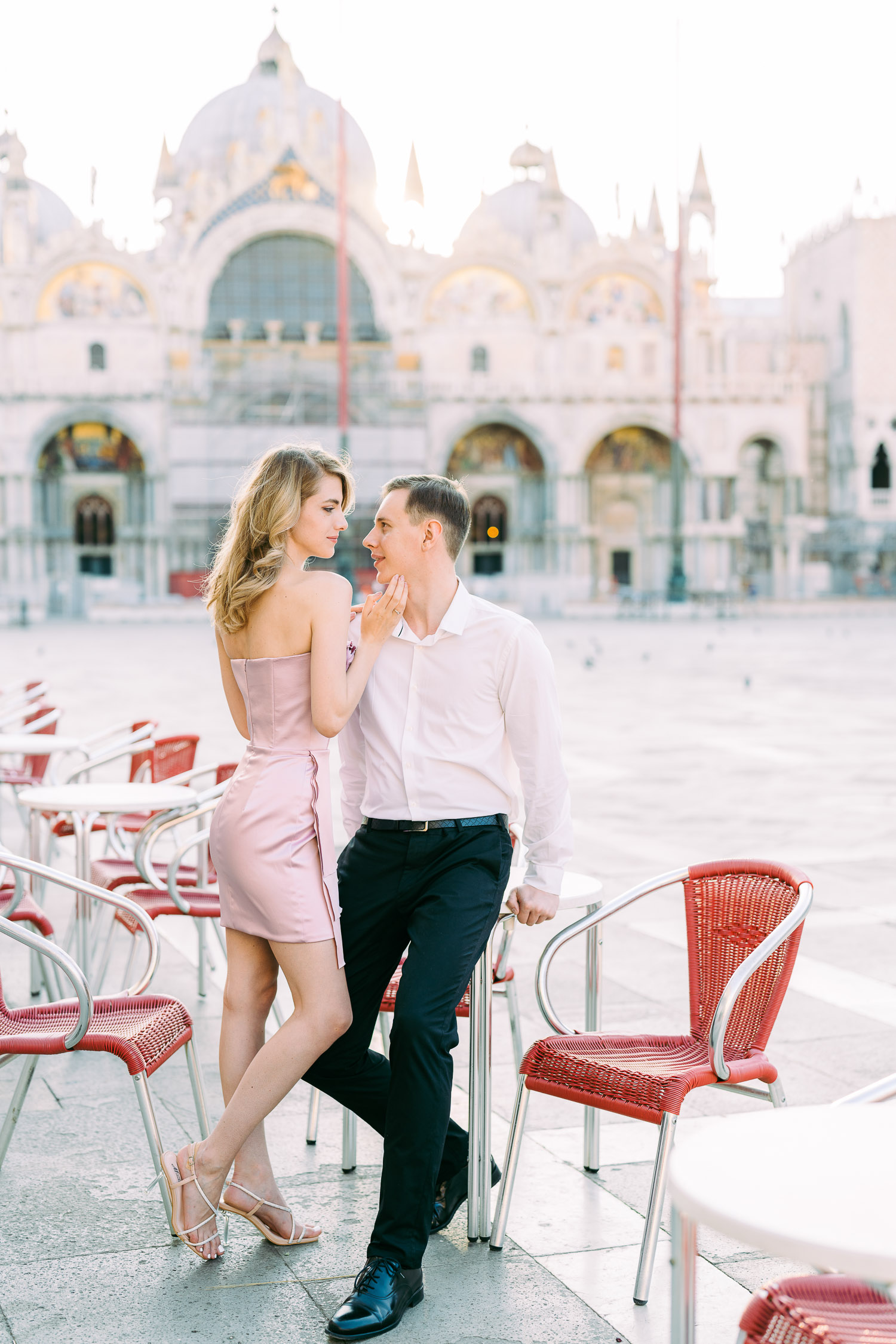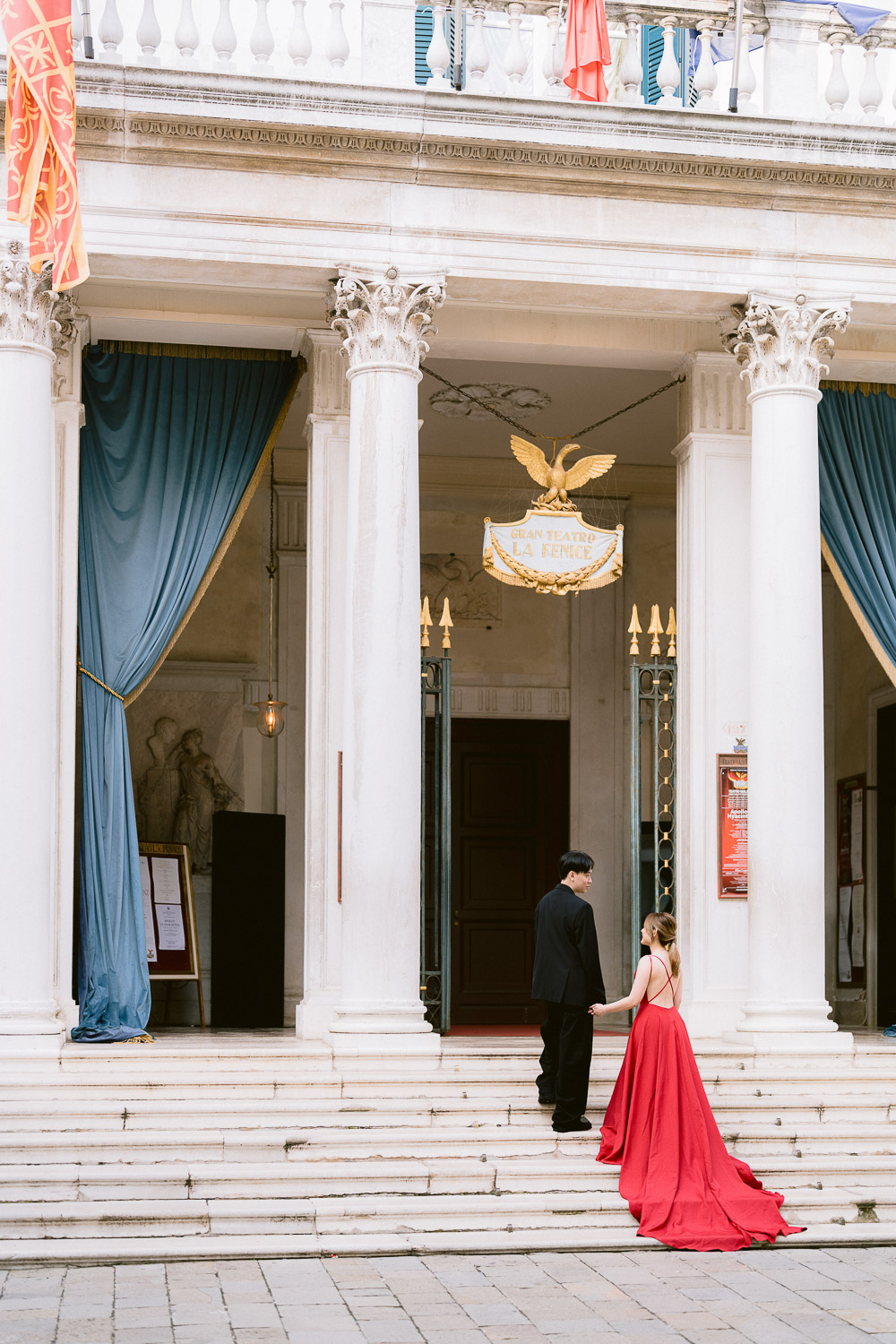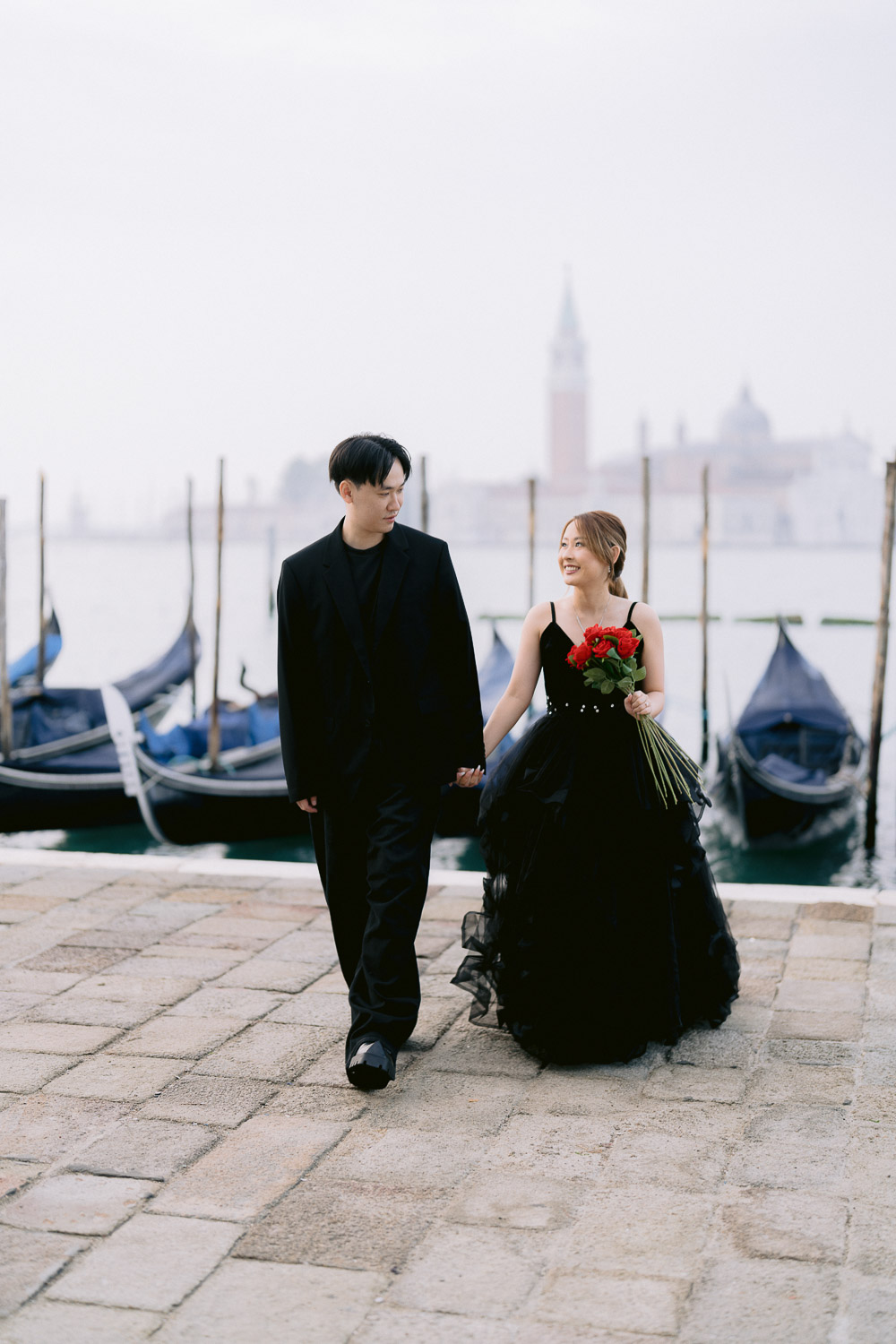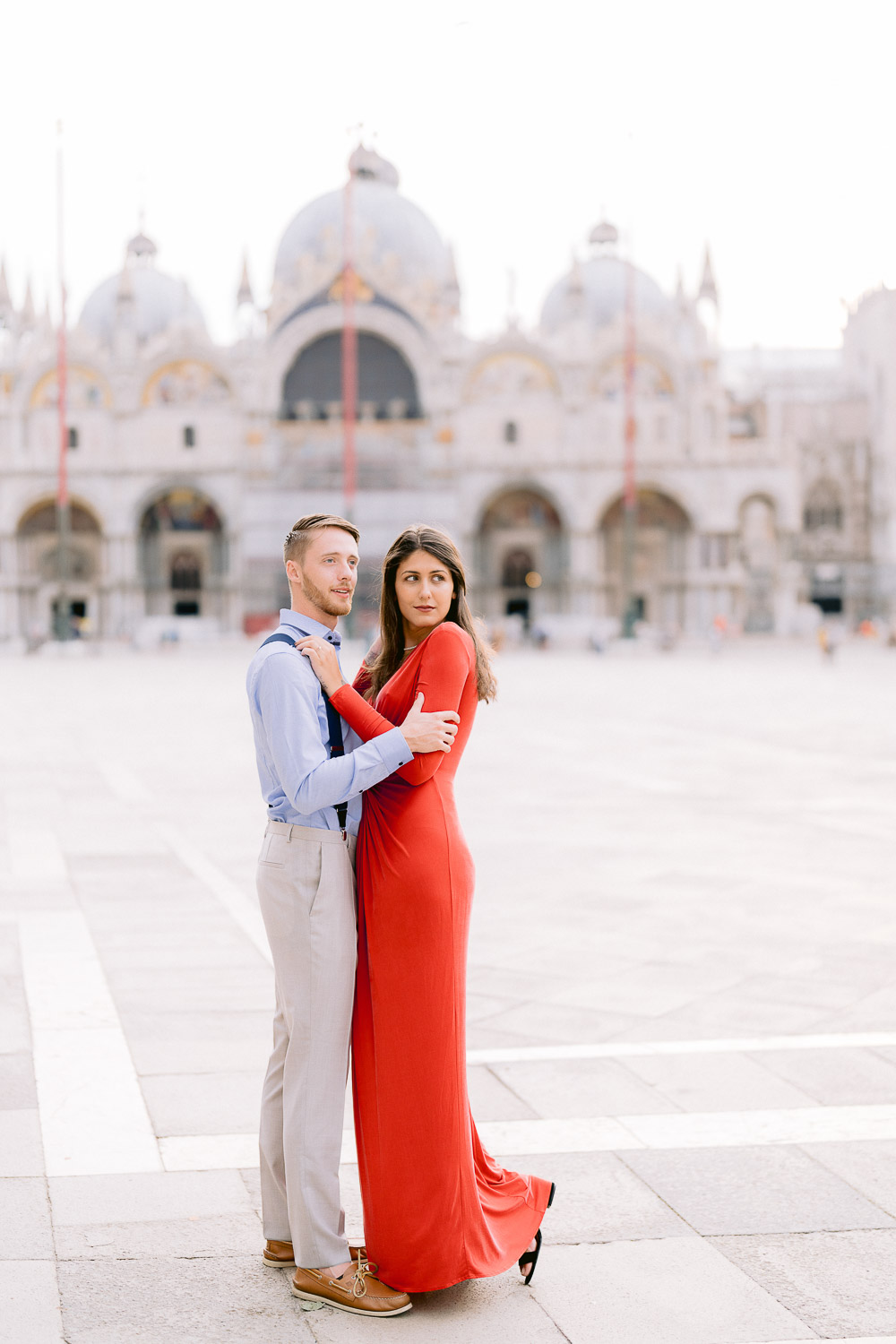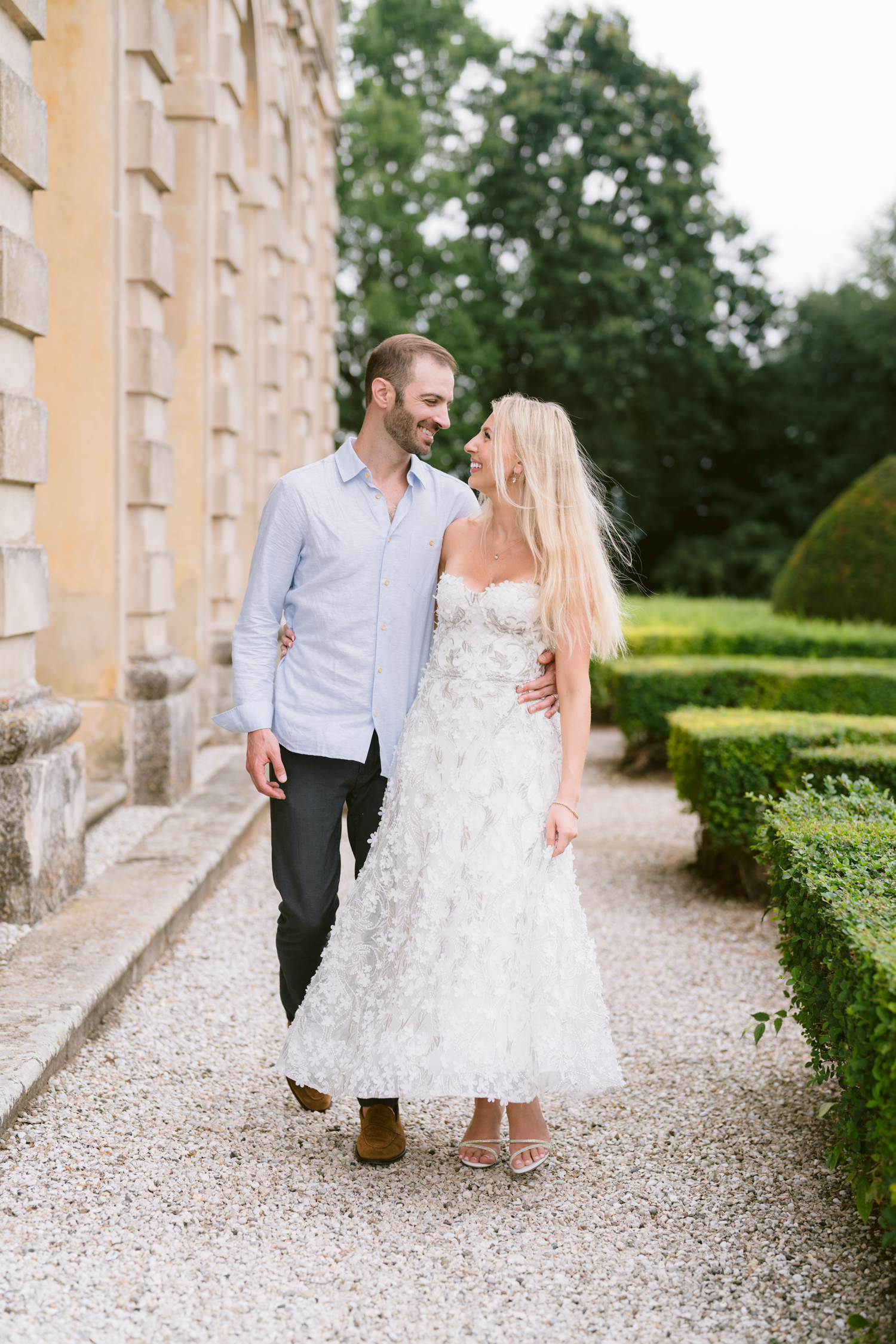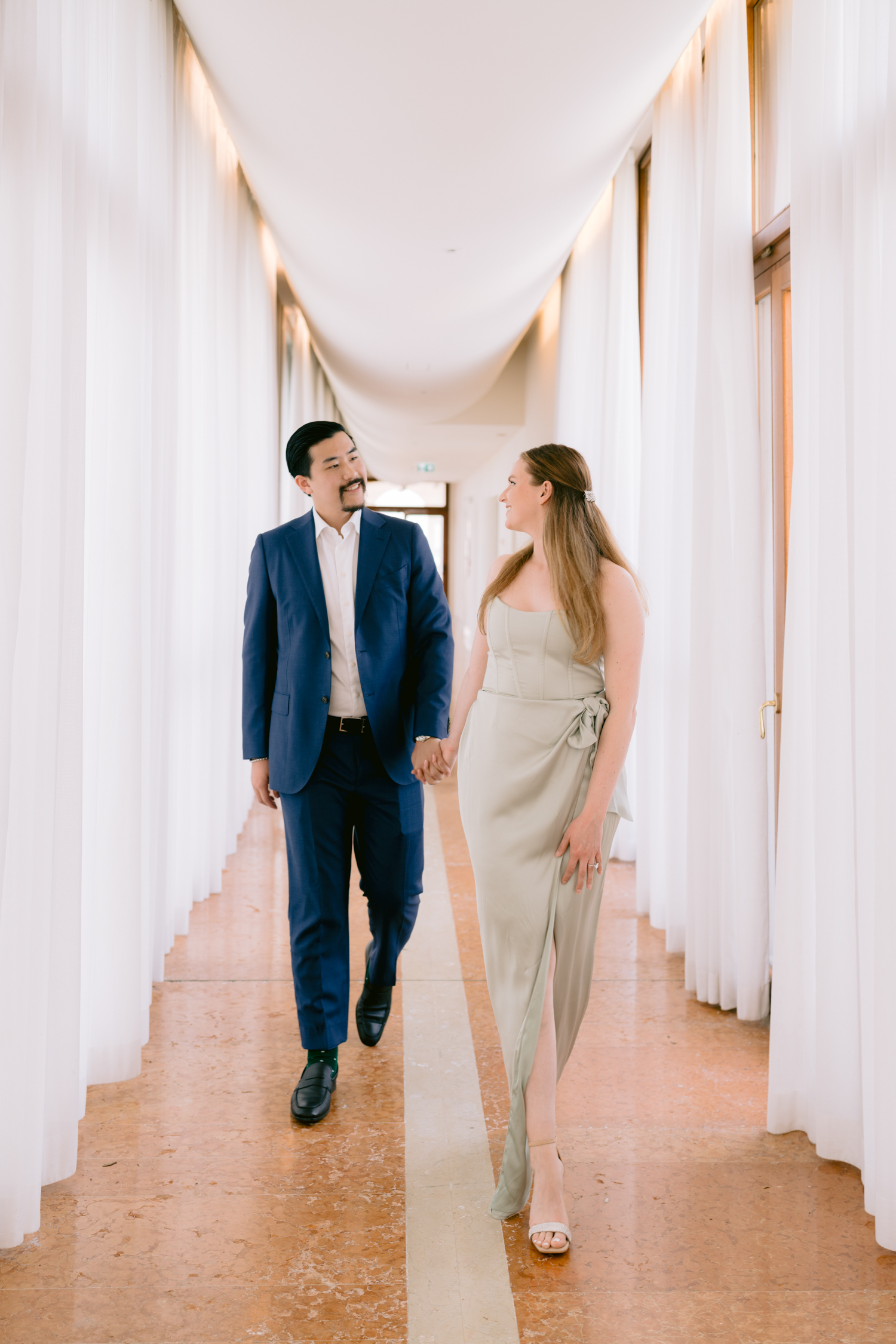 If you're venturing into the narrow streets and charming alleyways, embrace a more casual and relaxed style. Flowy dresses or linen pants paired with comfortable footwear will not only keep you comfortable while exploring but also add an effortless charm to your photographs.
For photoshoot locations by picturesque canals or gondolas, incorporating colors that harmonize with the scenery is key. Soft pastels or vibrant hues can create striking contrasts against the serene waters and rustic architecture.
Lastly, don't forget to consider practicality alongside style. Venice is known for its intricate bridges and cobblestone pathways, so be mindful of footwear choices that are both fashionable and comfortable enough for walking around.
By carefully selecting your outfits based on different backdrops within Venice, you can create visually captivating photos that truly capture the essence of this magical city.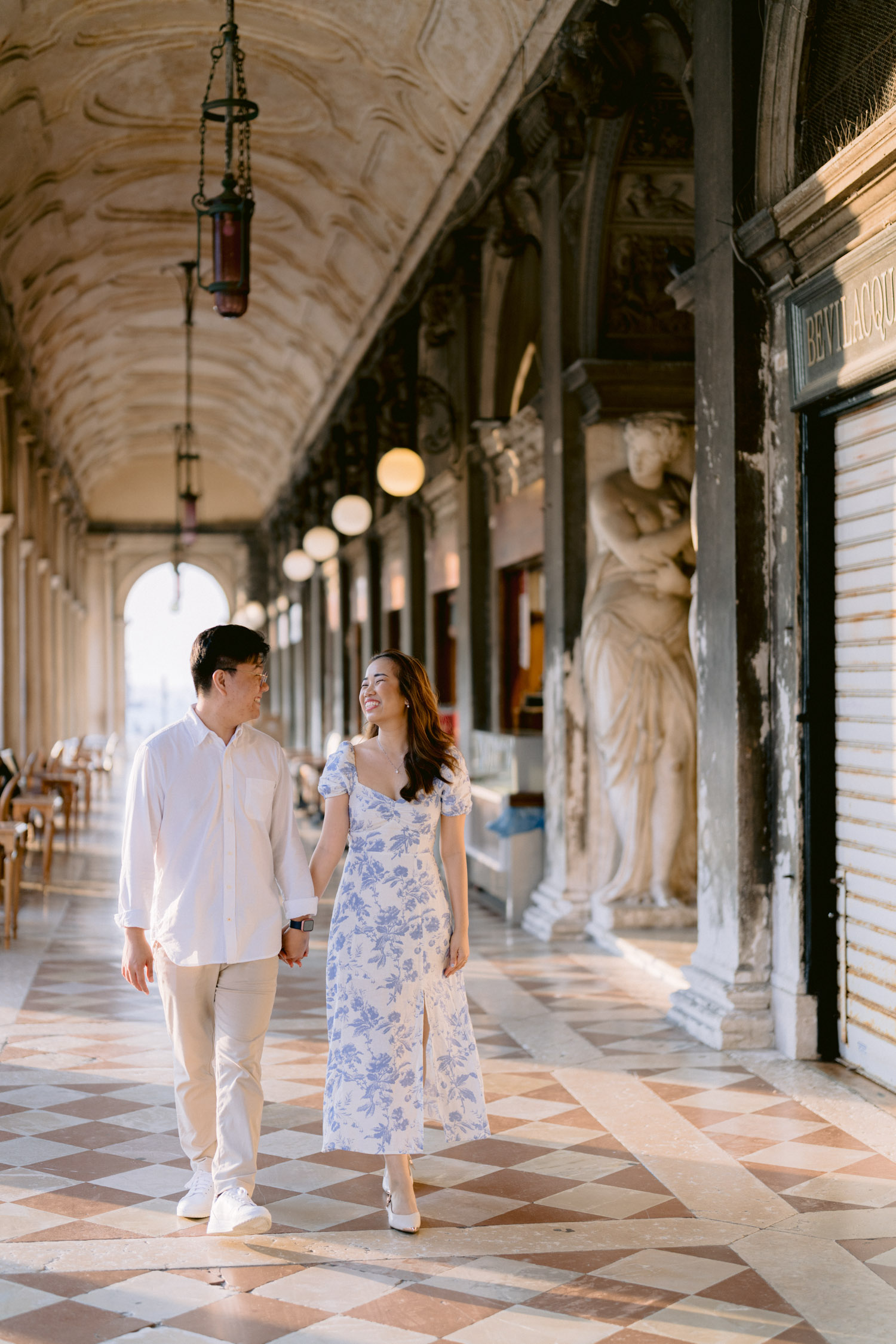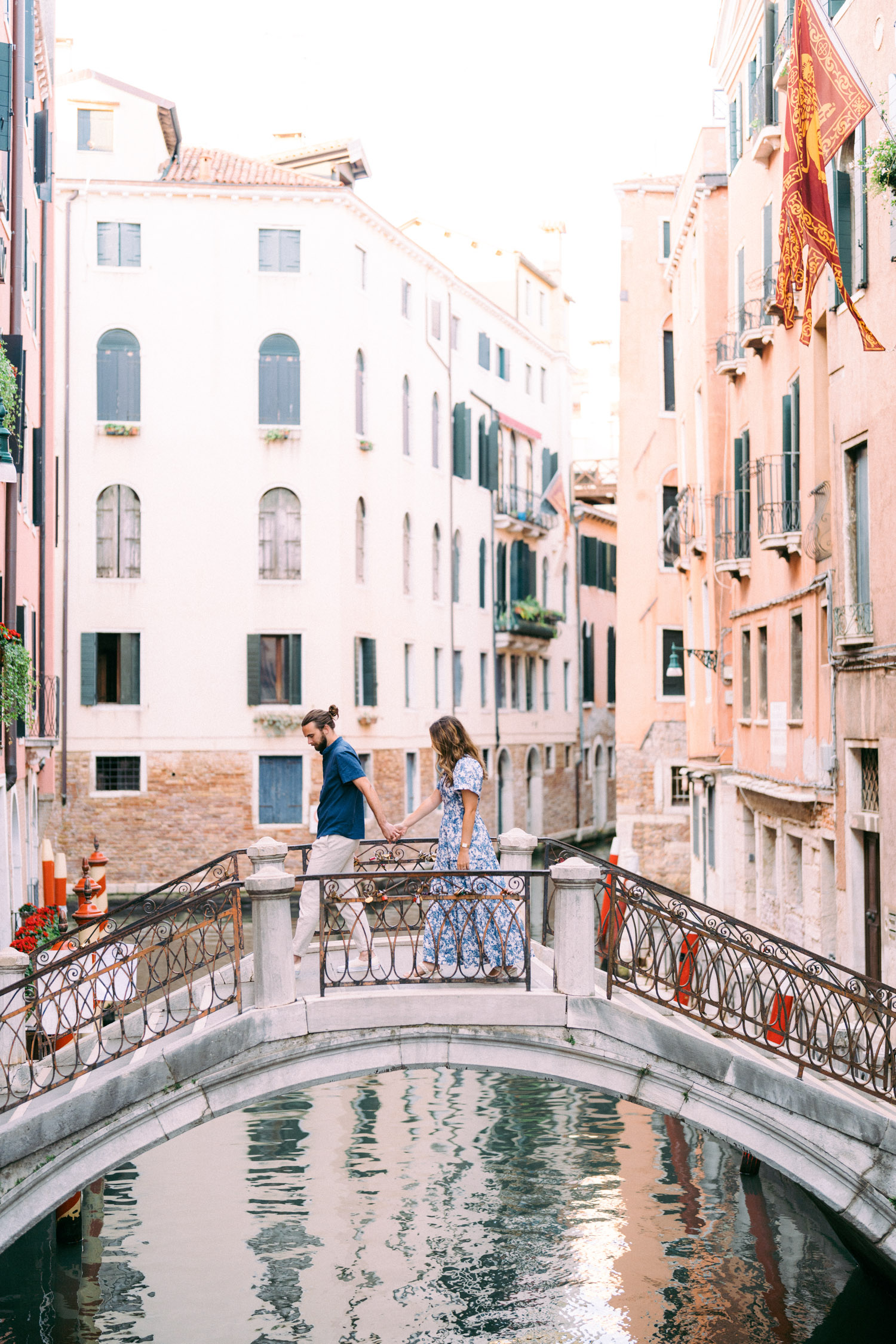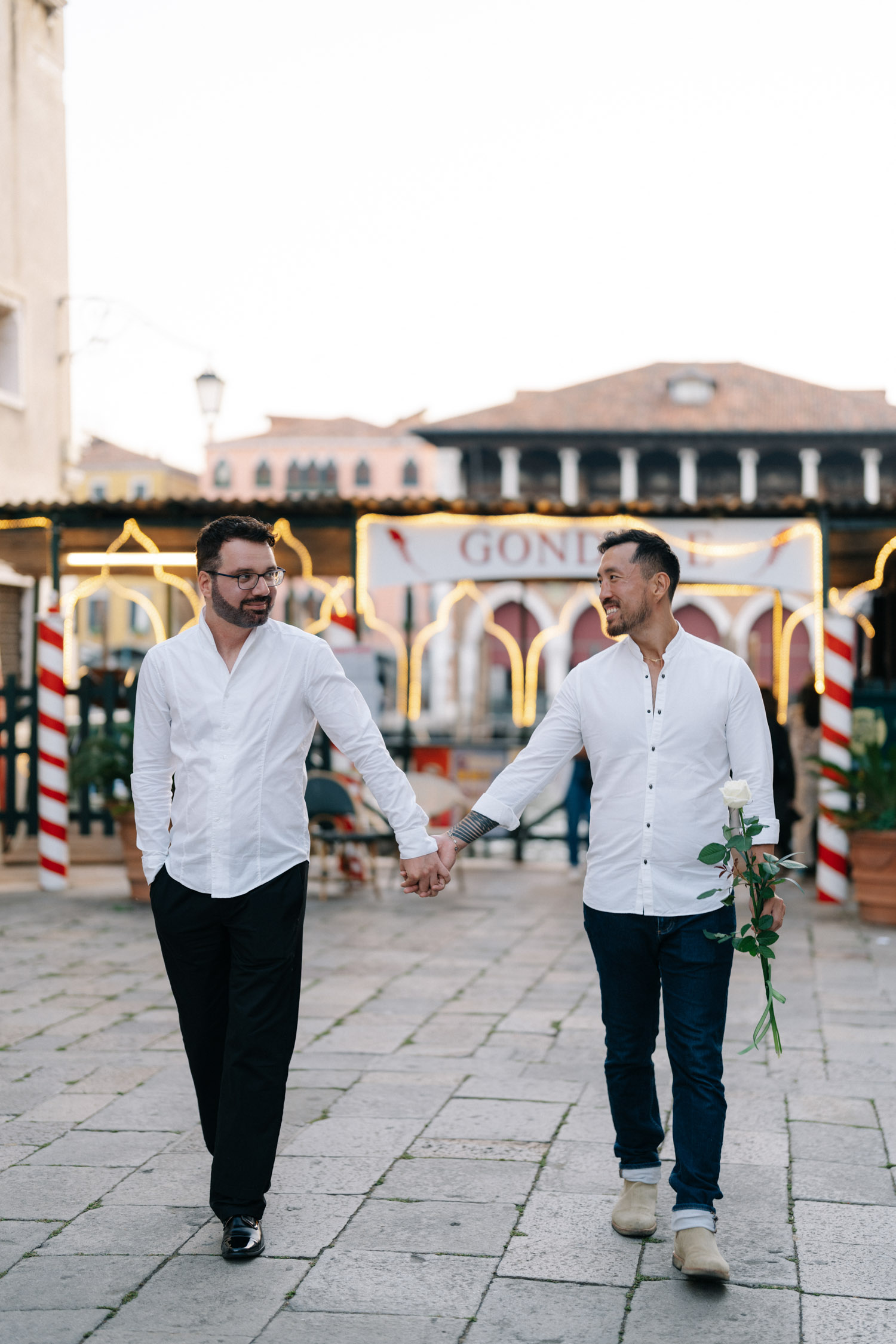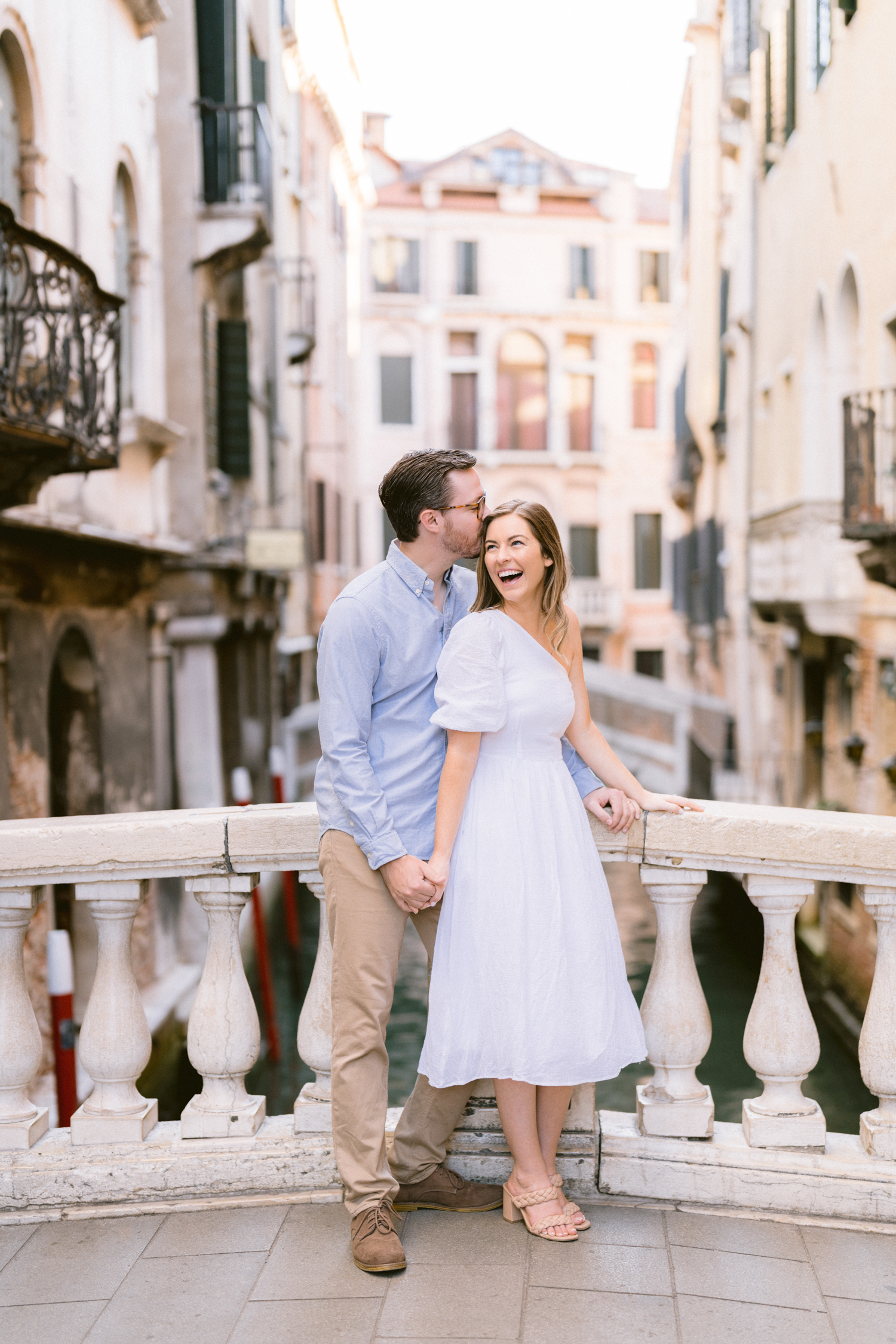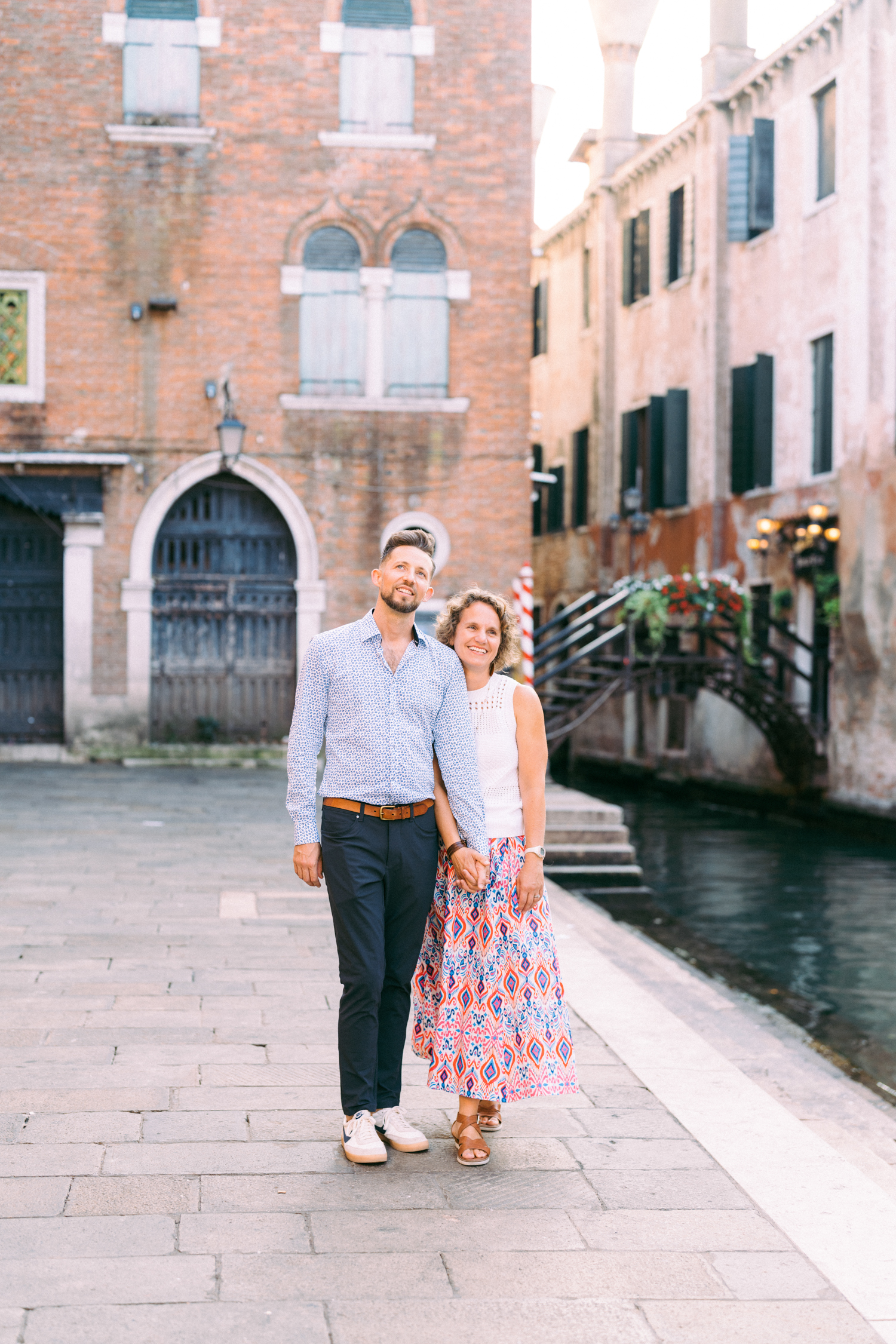 In a nutshell,
St. Mark's Square: Outfit recommendations to complement the grandeur of this iconic location.

Rialto Bridge: Choosing attire that harmonizes with the historical charm of this famous bridge.

Gondola ride: Practical and stylish clothing suggestions for a romantic or family gondola experience.

Venetian streets and canals: Blend in with the picturesque surroundings while still showcasing your personal style.
Conclusion: Dressing to Impress and Creating Lasting Memories in Beautiful Venice
. Book photographer in Venice
In conclusion, when visiting the enchanting city of Venice, it is essential to dress to impress and create lasting memories. The unique charm and beauty of this city call for elegant attire that complements the surroundings. By carefully selecting your wardrobe, you can enhance your experience and immerse yourself in the Venetian culture. Book photographer in Venice
Whether you choose a sophisticated evening gown for a romantic gondola ride or opt for stylish casual wear while exploring the winding streets, dressing appropriately will not only make you feel more confident but also show respect for the local customs and traditions.
Furthermore, capturing these precious moments through photography will allow you to relive them even after your visit has ended. From iconic landmarks like St. Mark's Square to picturesque canals and bridges, Venice offers countless opportunities for stunning photographs that will serve as cherished mementos of your time in this magical city.
So remember, when planning your trip to Venice, take the time to curate a wardrobe that reflects both style and practicality. Dressing to impress will not only enhance your overall experience but also create lasting memories that you can treasure for years to come. Find more inspiration on my Pinterest couple's looks and family looks boards. Also, discover this article to learn more. Searching for more information? This post will give you more tips.Venice couples session
If you have any questions or just want to lock your date, send us an email via contact form.