Couples photoshoot outfit ideas. Venice photographer- Alina Indi. Venice engagement Photos
The city of Venice is the perfect backdrop for a romantic couples photoshoot. It is known for picturesque canals, cobbled streets, charming bridges, and iconic landmarks. Without a doubt, Venice offers couples an unforgettable experience that they will cherish forever.
Whether you're looking for a classic or contemporary photoshoot. Venice has something to offer everyone from the colorful buildings along the Grand Canal to the hidden alleyways of San Marco Square. This city is full of romantic photoshoot spots that will make your special day even more memorable. Couples photoshoot outfit ideas
Discover why Venice is the perfect location for your couples' photoshoot and learn about all of its unique photography locations.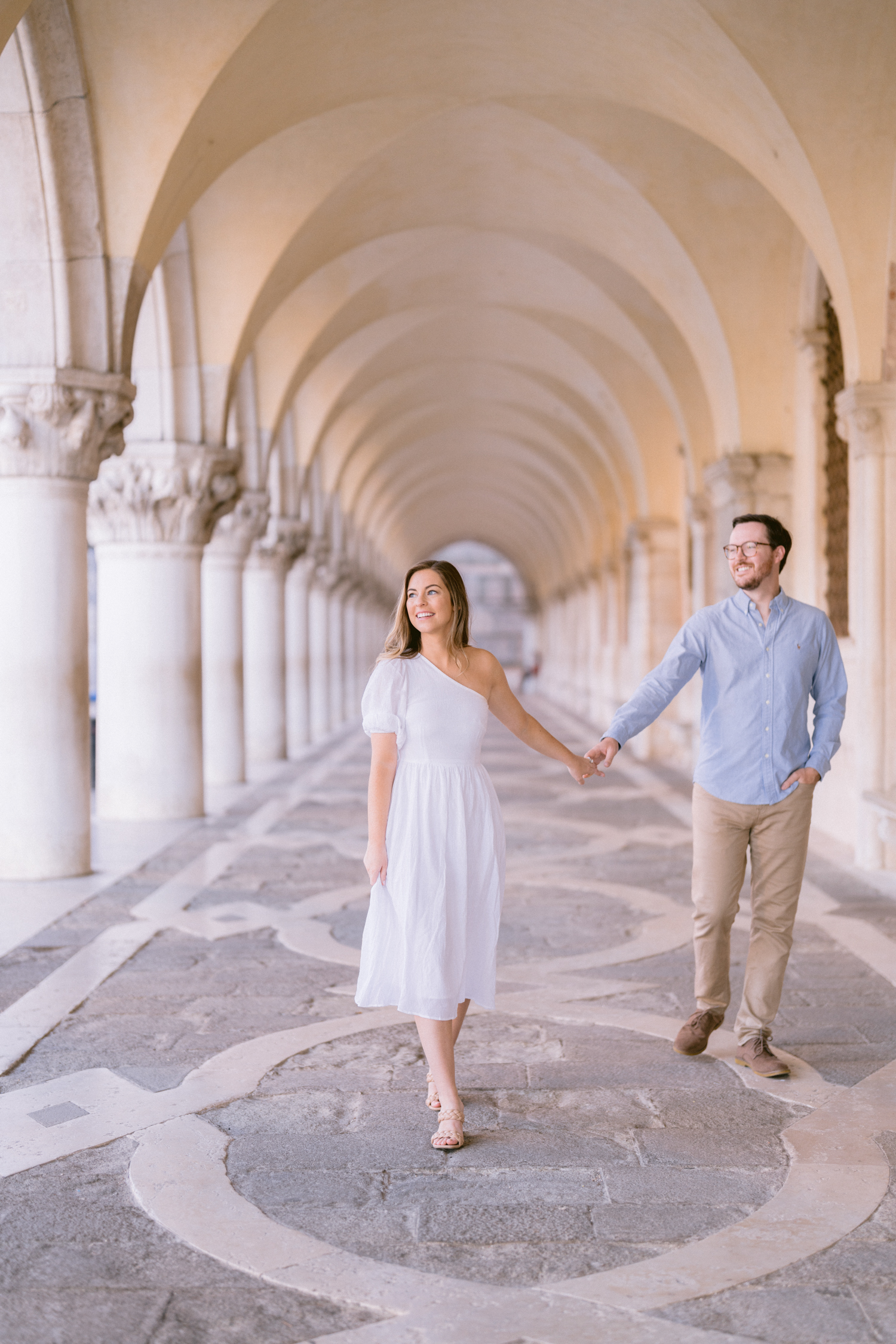 What are Some Essential Fashion Tips for Choosing Your Outfits?
When it comes to choosing the perfect outfits for a couples photoshoot, there are some essential fashion tips that you should keep in mind. From selecting the right colors and textures to finding the ideal fit. These fashion tips will help you create an amazing look you can be proud of. Read on to discover some of the most essential fashion tips for choosing your outfits for a couples photoshoot. Couples photoshoot outfit ideas. Venice engagement Photos
First of all, stick to your style. Your outfit should make you feel like you and be comfortable.
Avoid patterns and logos. It helps focus on your story rather than on the outfits. Moreover, it's a way to create a timeless and elegant look in photos.
Choose neutral colors. Wearing white, grey, black, and beige is a great choice if you're confused about picking your outfits.
Complement each other. A combination of no more than three colors in your total couple's look will help create a balanced composition.
Changing outfits. Why not bring 2 outfits if you book a 2-hour session and longer? It's a great idea if you're a big fan of fashion and want to reflect it in your photos.
Browse through my Pinterest mood board.  There are a few ideas of how a timeless and elegant couple's outfits can look like.
Don't forget about significant accessories such as engagement rings, a special gift or anything else you want to remember forever.
Couples photoshoot outfit ideas for winter and fall.
Are you looking for ideas to make your winter and fall couple's pictures stand out? Finding the perfect combination of colors and accessories during the cold season is key to creating a stunning look even when it's moody outside. Fortunately, there are some great tips that can help you find the perfect outfit for your couples' photos. As a main tip, choose winter and fall colors and dress for the season. Plus, Incorporate accessories, such as hats, boots, etc. Winter and fall accessories can be very stylish and pretty. Couples photoshoot outfit ideas. Venice engagement Photos
What to wear for a couples photoshoot in Venice?
When considering clothing for a couples photoshoot in Venice, it's important to remember that you don't want to look too matchy-matchy. Instead, choose complementary colors and styles that will enhance each other's looks. Consider wearing neutral, aquamarine, and terracotta colors. They will provide a timeless look and won't detract from the beauty of the cityscape. If you want to add some color and texture, consider incorporating pops of color with accessories like scarves or hats.
When it comes to footwear, opt for comfortable shoes that are easy to walk in since you'll likely be exploring Venice during your shoot. Avoid wearing sandals or open-toed shoes if you like an elegant and timeless style.
If you're ready to document your love in the floating city, book your photoshoot now. Contact us via email and let us know if we can help you with the outfit choice.