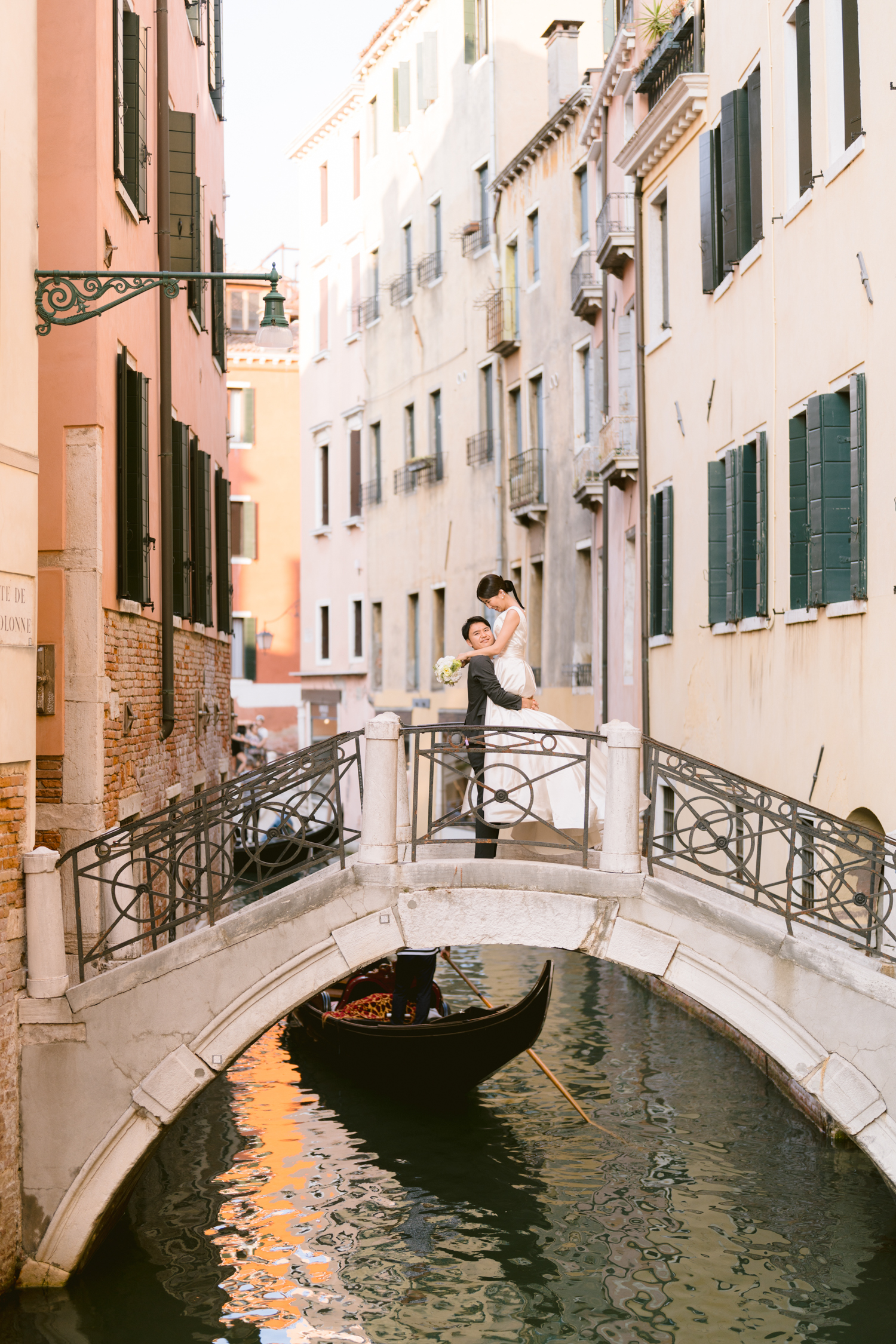 Elopement Wedding Venice Photographer. Wedding photographer in Venice
Welcome to the enchanting world of elopement weddings in Venice. In the floating city love and romance intertwine amidst the picturesque canals and timeless beauty. If you are seeking an intimate and romantic wedding experience, Venice offers a dreamlike setting that will leave you spellbound.
Imagine exchanging your vows in the company of only your closest loved ones. With the stunning backdrop of Venetian architecture and gondolas gliding gracefully through the waterways. An elopement wedding in Venice allows you to escape larger ceremonies' traditional hustle and bustle. Undoubtedly, you will create an intimate affair that focuses solely on your love story.
It's one of the most sought-after romantic wedding destinations in the world. Venice offers a plethora of luxury hotels that cater to every desire. From elegant palazzos overlooking the Grand Canal to boutique hotels tucked away in quiet corners. There is a perfect venue for every couple's vision. These exquisite accommodations provide not only a stunning backdrop for your ceremony. But also offer unparalleled service and amenities to ensure your special day is nothing short of perfection.
Whether you envision a sunset ceremony on a private terrace or an intimate gathering in a hidden garden. Venice has it all. The city's timeless charm and unique ambiance create an atmosphere unlike any other. It makes it an ideal destination for couples seeking an unforgettable wedding experience.
So why wait? Immerse yourself in the magic of an intimate and romantic elopement wedding in Venice. Let this enchanting city be a witness to your love story. As you embark on a journey filled with cherished memories that will last a lifetime.
Why Choose Gritti Palace for Your Elopement Wedding: A Perfect Blend of Luxury and History
. Elopement Wedding Venice Photographer
When planning your elopement wedding, finding the perfect venue is crucial. Look no further than the Gritti Palace in Venice.
As part of the prestigious Luxury Collection Hotels, the Gritti Palace is renowned for its opulence and timeless elegance. This historic hotel has been a symbol of Venetian grandeur since the 15th century, making it an ideal choice for couples seeking a truly memorable wedding experience. Elopement Wedding Venice Photographer
Imagine exchanging your vows in one of the Gritti Palace's iconic on-site locations. Whether you prefer an intimate ceremony in their enchanting courtyard or a breathtaking celebration overlooking the Grand Canal. From their panoramic terrace, this venue offers a variety of stunning options to suit your preferences.
Not only does the Gritti Palace provide an exquisite backdrop for your special day, but their team of wedding professionals will ensure that every detail is taken care of. From personalized menus crafted by their Michelin-starred chef to luxurious accommodations for you and your guests, they go above and beyond to create an unforgettable experience.
Choosing the Gritti Palace for your elopement wedding means immersing yourself in centuries of Venetian history while indulging in unparalleled luxury. Let this iconic hotel be the setting where your love story unfolds, creating memories that will last a lifetime.
Planning your Elopement Wedding at Gritti Palace: Step-by-Step Guide to a Stress-Free Experience
Planning your elopement wedding at Gritti Palace can be an unforgettable and stress-free experience. You can create a magical moment that will be cherished for a lifetime.
Gritti Palace offers elopement packages designed to cater to your unique preferences and desires. These packages include everything you need for an intimate and romantic celebration, from luxurious accommodations to personalized services.
To ensure a smooth and hassle-free experience, it is important to familiarize yourself with the legal requirements for getting married in Venice. The hotel staff at Gritti Palace will assist you in navigating through these requirements, ensuring that all necessary documents are in order.
Throughout the planning process, the dedicated team at Gritti Palace will work closely with you to bring your vision to life. From selecting the perfect ceremony location within the hotel's stunning premises to arranging for a talented photographer or florist, they will go above and beyond to make your elopement truly exceptional.
Creating an Unforgettable Ceremony and Reception: Customizing Every Detail to Reflect Your Love Story
Your wedding day is a celebration of your unique love story, and what better way to make it unforgettable than by customizing every detail? From the elopement ceremony to the reception, there are endless possibilities to infuse your personal touch into every aspect of your special day. Elopement Wedding Venice Photographer
When it comes to the elopement ceremony, think outside the box and explore creative ideas that truly reflect your love story. Whether it's exchanging personalized vows that speak from the heart or incorporating meaningful rituals or symbols, this is the moment to showcase your love in a way that resonates with both of you.
For an enchanting reception experience, consider hosting it at the iconic Gritti Palace terrace or private dining room. These stunning venues offer a picturesque backdrop for your celebration and can match your vision. Imagine an intimate dinner under the stars on the terrace or an elegant indoor setting with luxurious decor. Both options will create a memorable ambiance that perfectly complements your love story.
By customizing every detail of your ceremony and reception, you are creating an experience that is uniquely yours. Your guests will be captivated by the thoughtfulness and attention given to each element, making it a wedding they will never forget. Let your love story shine through in every aspect of this joyous occasion at Gritti Palace – where dreams become reality. Elopement Wedding Venice Photographer
Learn more about the top wedding venues in Venice here.