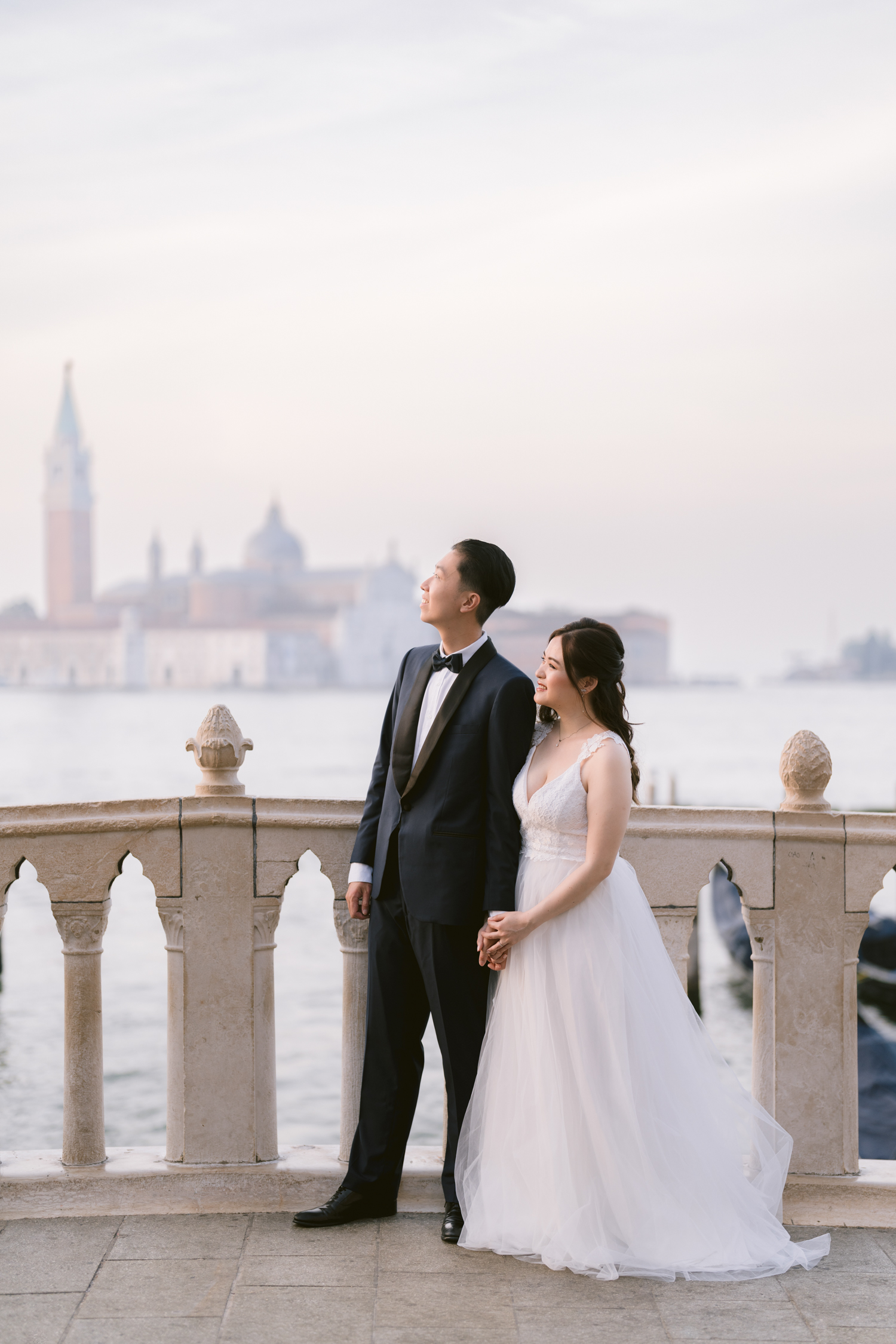 Top Venice wedding photographer. Elopement photographer in Venice. Book Venice photographer. Top Venice photographer
Picture this: you and your partner exchanging vows as the sun gently rises over the enchanting city of Venice. It's a dream come true for couples seeking an intimate and romantic wedding destination.
Choosing Venice for a sunrise elopement is like stepping into a fairytale. The city's timeless beauty and captivating canals create a backdrop that is simply unmatched. Top Venice photographer
A sunrise wedding in Venice offers more than just breathtaking views. The early morning light casts a magical glow on everything it touches. It creates an ethereal atmosphere that adds an extra layer of romance to your special day. It's an experience that will be etched in your memories forever. Book Venice photographer
Moreover, eloping in Venice allows you to escape the crowds and have an intimate ceremony tailored to your desires. With fewer tourists around during sunrise hours, you can truly savor those precious moments with your partner without any distractions.
So if you're looking for a truly unforgettable wedding experience, consider choosing Venice for a sunrise elopement. Let this enchanting city be the backdrop to your love story as you embark on this new chapter together.
The Beauty of Venice at Sunrise: A Magical Setting for Your Elopement.
Top Venice wedding photographer
The Grand Canal, adorned with stunning Venetian architecture, comes alive as the first light of day illuminates its majestic palazzos and charming bridges. Book Venice photographer
For couples seeking an unforgettable elopement experience, Venice at sunrise offers a picturesque setting like no other. Picture yourselves gliding through the calm waters of the canals on a romantic gondola ride, surrounded by the tranquility and serenity that only dawn can bring. Top Venice photographer
There are countless picturesque locations to choose from for your elopement ceremony. However, only Venice at sunrise provides an ethereal backdrop that will make your special day truly unforgettable.
Capture timeless memories as you exchange vows against this breathtaking backdrop, creating moments that will be cherished for a lifetime. Let Venice's beauty at sunrise be the perfect setting for your intimate and magical elopement experience.
Planning Your Sunrise Elopement in Venice: Tips and Tricks.
Top Venice wedding photographer
Planning a sunrise elopement in Venice can be a dream come true. Consequently, it's important to have all your ducks in a row. From wedding planning tips to legal requirements, let's dive into some helpful tips and tricks for creating the perfect intimate celebration. elopement photographer in Venice
First and foremost, familiarize yourself with the legal requirements for eloping in Venice. Make sure you have all the necessary documentation and permits to make your union official. It's always better to be prepared so that you can focus on enjoying your special day.
Choosing the right wedding photographer in Venice is key to capturing those magical moments. Look for someone who specializes in capturing intimate elopements and has experience shooting at sunrise. Their expertise will ensure that every precious moment is beautifully documented, creating memories that will last a lifetime.

Top Venice photographer

Creating an elopement checklist is essential for staying organized. Include details such as booking accommodations, arranging transportation, selecting a ceremony location, and planning any additional activities or surprises you may have in mind. This checklist will help you stay on top of things and ensure nothing falls through the cracks.
Finally, don't forget to soak up the beauty of Venice during your sunrise elopement. Take advantage of the stunning scenery by choosing a picturesque location for your ceremony. Whether it's by the canals or on a gondola ride at dawn, make sure it reflects your love story and creates an unforgettable backdrop for exchanging vows.

Photographer in Venice
By following these tips and tricks, you'll be well on your way to planning a breathtaking sunrise elopement in Venice that perfectly captures your love and creates cherished memories for years to come.
Capturing the Moments: Finding the Perfect Photographer for Your Sunrise Elopement.
So you've decided to have a romantic sunrise elopement in Venice, and now you're on the hunt for the perfect photographer in Venice to capture those breathtaking moments. Look no further! When it comes to finding an elopement photographer in Venice who specializes in capturing sunrise moments with a candid photography style, you're in luck. Top Venice wedding photographer
Imagine exchanging vows as the sun peeks over the horizon, casting a golden glow on the picturesque canals and historic architecture of Venice. It's a moment that deserves to remember through stunning photographs that truly capture the essence of your love story. elopement photographer in Venice
When searching for a wedding photographer in Venice, be sure to look for someone who has experience shooting during sunrise. This specific time of day offers unique lighting conditions and creates an enchanting atmosphere that will make your photos truly magical. Photographer in Venice
In addition, opt for a Venice photographer who specializes in candid photography. This style focuses on capturing genuine emotions and natural interactions rather than staged poses. It's all about those spontaneous moments that reflect the true essence of your love and connection.
So whether you're strolling hand-in-hand along the canals or stealing kisses under bridges, finding a Venice wedding photographer who can beautifully capture these intimate moments is key. With their expertise in shooting during sunrise and their knack for candid photography, they'll ensure that every precious moment is on photos forever.
Get ready to say "I do" as the sun rises over Venice, with a talented wedding photographer by your side to capture every breathtaking moment.
Adding Extra Romance to Your Special Day: Ideas for a Memorable Sunrise Celebration
If you're looking to add an extra touch of romance to your special day, why not consider a memorable sunrise celebration? Picture this: After your intimate elopement ceremony, hop on a boat and embark on a breathtaking sunset ride. As the golden hues paint the sky, you and your partner can enjoy the peaceful serenity of the water.
To make it even more magical, plan for a romantic breakfast by the canals of Venice. Imagine sipping coffee or champagne while indulging in delicious pastries as you soak in the enchanting atmosphere of this iconic city. It's an experience that will create lasting memories and add an extra dose of romance to your special day.
So why settle for a traditional celebration when you can start your journey together with a unique and unforgettable sunrise adventure?
Conclusion
So, there you have it – the perfect conclusion to your dream elopement in Venice! Picture this: a breathtaking sunrise, the serene canals of Venice, and you and your partner exchanging vows in an intimate ceremony. It's the start of your happily ever after.
Choosing a sunrise elopement in Venice is a unique and romantic way to celebrate your love. The city's enchanting beauty combined with the peacefulness of the early morning creates an unforgettable atmosphere for your special day.
Not only will a sunrise elopement in Venice provide stunning visuals, but it also offers privacy and intimacy. You can truly focus on each other and savor every moment without distractions. Moreover, there are fewer tourists around during this time of day. Book Venice photographer
You may choose to exchange vows on a gondola or at one of Venice's charming bridges. Undoubtedly, this experience will be in your hearts forever. It's an opportunity to start your journey together in one of the most romantic cities in the world. elopement photographer in Venice
So why wait? Begin planning your fairy tale elopement today and let Venice be the backdrop for your love story. Your happily ever after starts with a breathtaking sunrise elopement in this enchanting city.
Whether you're looking for a sunrise engagement, wedding, or anniversary photographer, we can't wait to hear from you.
Also, find out about our latest project on Instagram, and let us know about your upcoming trip to Italy.