Thinking of hiring a family photographer in Venice to capture those beautiful moments? Well, you're on the right track! Having professional family photos taken is a wonderful way to preserve and cherish your memories for years to come.
A skilled family photographer in Venice knows how to capture the essence of your unique bond and create stunning images that truly reflect your love and connection. From candid shots to posed portraits, they have the expertise to make every moment shine.
And let's not forget about the picturesque backdrop that Venice has to offer! With its charming canals, stunning architecture, and romantic ambiance, this enchanting city provides the perfect setting for a memorable family photoshoot.
So why settle for ordinary snapshots when you can have professional-quality photos that will make your heart skip a beat? Hire a family photographer in Venice today and let them capture those precious moments that you'll treasure forever.
The Magic of Venice: Exploring Picture-perfect Locations
Welcome to the enchanting world of Venice, where every corner is a picture-perfect backdrop for your family photoshoot. With its iconic bridges, romantic canals, and scenic backdrops, this magical city offers endless possibilities for capturing those precious moments with your loved ones.
Venice is renowned for its landmarks that have graced countless postcards and travel brochures. From the majestic Rialto Bridge to the stunning Bridge of Sighs, these architectural wonders add a touch of grandeur to any photo. Imagine posing with your family against the backdrop of these historic structures, creating memories that will last a lifetime.
But Venice has more to offer than just its famous landmarks. Explore the hidden gems tucked away in quiet corners of the city. Wander through narrow alleyways adorned with vibrant flowers and charming cafés. Discover secluded squares where locals gather and children play, providing an authentic Venetian atmosphere for your photoshoot.
Of course, no visit to Venice would be complete without capturing moments on its romantic canals. Hop aboard a gondola and let the gentle rhythm of the water transport you to picturesque spots off the beaten path. As you glide along, you'll pass by quaint bridges and colorful facades that make for stunning backdrops against which your family's smiles will shine.
Whether you choose well-known landmarks or venture into lesser-known areas, Venice offers a magical setting for your family photoshoot in Venice. So grab your camera and get ready to capture unforgettable moments in this captivating city filled with beauty at every turn.
Tips and Tricks for a Successful and Stress-Free Family Photoshoot in Venice
.
Alright, let's dive into some tips and tricks for a successful and stress-free family photoshoot in Venice in the beautiful city of Venice! We all know that capturing those precious family moments can be both exciting and challenging, especially when it comes to getting everyone to pose naturally and look their best.
First things first, let's talk about posing tips for family photos. Instead of going for stiff and posed shots, encourage your family members to interact with each other naturally. Capture genuine moments of laughter, hugs, or even playful interactions. This will not only make the photos look more authentic but also help everyone feel more relaxed during the shoot.
Now, let's move on to wardrobe suggestions. Coordinate outfits without being too matchy-matchy. Choose a color palette that complements each other and the vibrant backdrop of Venice. Consider wearing comfortable clothing that allows freedom of movement so that you can easily explore different locations for your shoot.
When it comes to making kids comfortable during the shoot, remember that patience is key. Let them be themselves and allow them some time to warm up to the photographer and the surroundings. Bring along their favorite toys or snacks as a distraction if needed.
By following these tips and tricks, you'll be well on your way to having a successful and stress-free family photoshoot in Venice! So relax, enjoy the process, and create beautiful memories together in this enchanting city.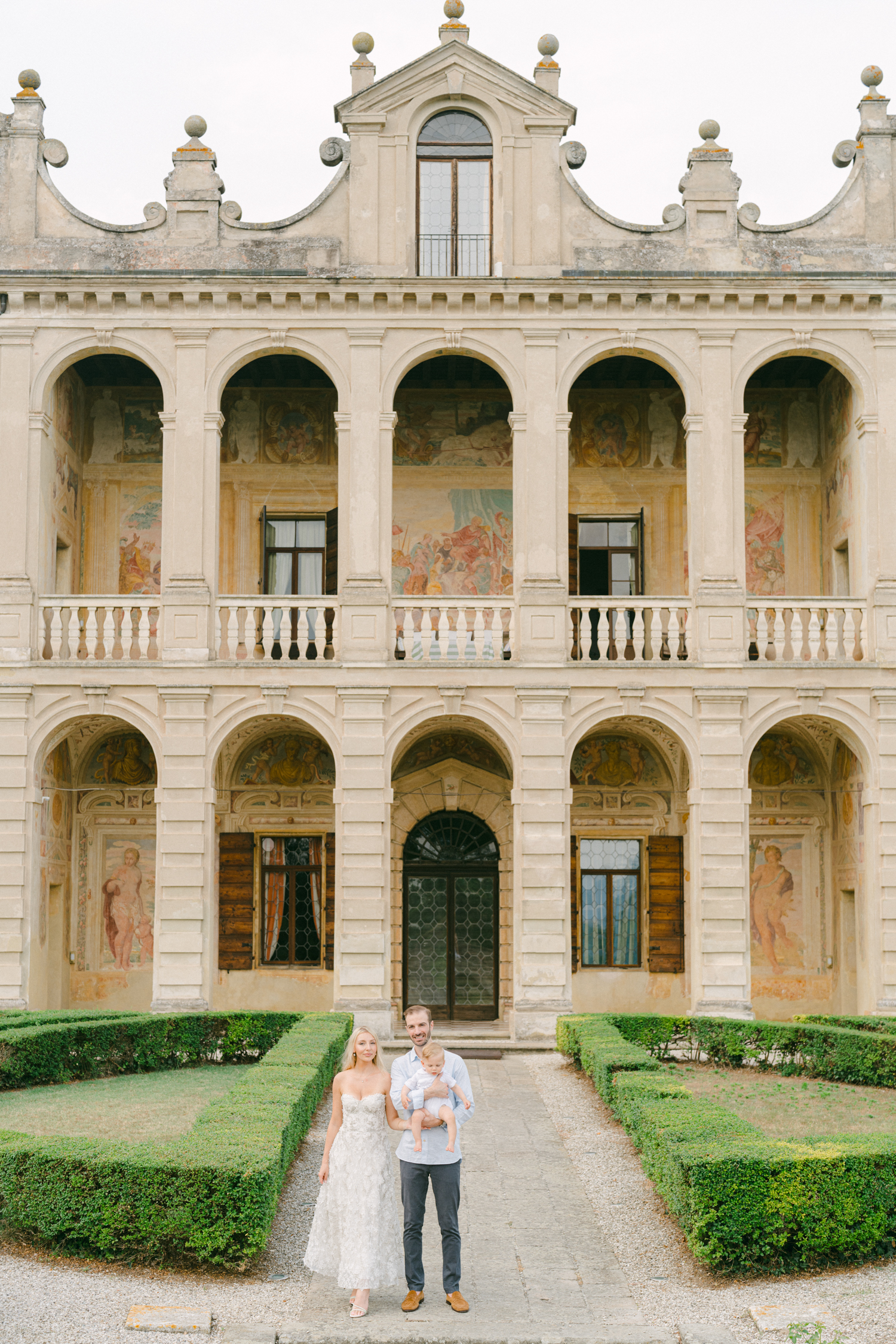 Book your Family Photoshoot in Venice with a professional photographer, Alina Indi.
If you're planning a session in the floating city, this guide is for you.
Learn more about our latest projects on our Instagram.