Alina Venice Honeymoon Photographer. 
Hey there! So you've just tied the knot and now it's time to embark on your dream honeymoon. But have you ever considered adding a romantic touch to your trip by having a honeymoon photoshoot in none other than the enchanting city of Venice? Trust me, it's the perfect way to capture and preserve those precious memories forever.
A honeymoon photoshoot in Venice offers an incredible backdrop for your love story. Imagine strolling hand in hand through the narrow streets, crossing picturesque bridges, and gliding along the iconic canals while a talented photographer captures every candid moment. Not only will you have stunning photographs to cherish for a lifetime, but they will also serve as a visual reminder of the incredible bond you share.
Preserving memories is essential, especially during such special occasions. While traditional photography is great, a dedicated honeymoon photoshoot takes it up a notch. It allows you to fully immerse yourselves in the romance and beauty of Venice while creating timeless images that truly reflect your love. Alina Venice Honeymoon Photographer 
So why not make your honeymoon even more unforgettable? Consider booking a professional Venice photographer who specializes in capturing those magical moments. Whether it's an intimate gondola ride at sunset or exploring hidden alleyways hand in hand, a honeymoon photoshoot in Venice guarantees breathtaking snapshots that will transport you back to this extraordinary time whenever you glance at them.
Ready to embark on this romantic adventure? Let's dive into why precisely a honeymoon photoshoot in Venice is the perfect way to preserve your memories!
Choosing the Best Locations: Top Spots for Your Honeymoon Photoshoot in Venice
. Alina Venice Honeymoon Photographer 
So, you're planning a couples photoshoot in Venice? That's a fantastic idea! Now comes the fun part – choosing the best locations for your dreamy photoshoot. Alina Indi Venice Honeymoon Photographer 
Venice is a city filled with iconic backdrops that will make your pictures truly memorable. One of the must-visit spots is the Grand Canal, where you can capture the essence of Venice with its picturesque bridges and charming gondola rides. Imagine gliding along the canal while a skilled gondolier navigates through the enchanting waterways – it's like something out of a fairytale!
For an extra touch of romance, head to St. Mark's Square, known as Piazza San Marco in Italian. This bustling square offers stunning architecture and plenty of opportunities for beautiful photos. The square is surrounded by famous landmarks such as St. Mark's Basilica and the Doge's Palace, providing a majestic backdrop for your shots.
If you're looking for more intimate and secluded spots, consider exploring some of Venice's hidden gems. The neighborhood of Dorsoduro offers charming alleyways and picturesque canals that are perfect for capturing candid moments.
Don't forget about Venice's famous bridges! The Rialto Bridge is an iconic landmark that provides breathtaking views over the Grand Canal. It's an ideal spot to capture both panoramic shots and close-ups.
Lastly, no honeymoon photoshoot in Venice would be complete without capturing the essence of its romantic atmosphere. Take a stroll through narrow streets lined with colorful buildings or find a quiet corner in one of Venice's many charming squares.
Remember, choosing the suitable locations will set the stage for your unforgettable honeymoon photoshoot in Venice. So go ahead and explore these top spots to create memories that will last a lifetime!
Tips for Picking the Right Photographer: Finding Your Perfect Match for a Stunning Photoshoot
So you're on the hunt for a photographer to capture those special moments and create stunning photographs? Look no further! Finding the perfect match for your photoshoot can be an exciting yet daunting task. But don't worry, I've got some tips to help you pick the right photographer in Venice.
First things first, consider the location. If you're planning a romantic honeymoon in Venice, for example, look for a Venice photographer who knows all the best spots to capture that enchanting atmosphere.
Next, experience matters! Look for photographers who have experience in the type of photoshoot you're looking for. Whether it's wedding photography or portrait sessions, finding someone with expertise in your desired style will ensure stunning results.
Don't forget to review their portfolio! Take some time to browse through their previous work and see if their style aligns with your vision. This will give you a good idea of what to expect and if they can deliver the aesthetic you have in mind.
Remember, finding the right photographer is like finding your perfect match. It's all about compatibility and capturing those special moments in a way that resonates with you. So take your time, do your research, and trust your instincts. Happy hunting!
Dressing Up for the Occasion: Styling Tips to Look Picture-perfect on Your Special Day
Getting ready for a special occasion can be exciting and nerve-wracking at the same time. You want to look your absolute best, especially when capturing those picture-perfect moments. Whether planning a romantic honeymoon in Venice or preparing for a photoshoot, here are some styling tips to help you nail that elegant and comfortable attire.
When it comes to honeymoon outfit ideas, think about the location and activities you have planned. Venice is known for its romantic charm, so opt for flowy dresses or lightweight linen suits that exude effortless elegance. Pair them with comfortable yet stylish footwear like strappy sandals or loafers to explore the city's enchanting streets without sacrificing comfort.
For a photoshoot in Venice, consider incorporating elements of the city's iconic architecture and colors into your outfit. Choose outfits in soft pastel shades or classic neutrals that complement the backdrop while still allowing you to stand out. Don't forget to accessorize with statement pieces like oversized hats or delicate jewelry to add an extra touch of sophistication.
Remember, comfort is key! Opt for breathable fabrics that allow you to move freely and enjoy your special day without feeling restricted. Consider layering lightweight clothing pieces so you can easily adjust your outfit according to the weather or venue.
By following these dressing tips, you'll not only look picture-perfect but also feel confident and comfortable on your special day in Venice. So go ahead and create unforgettable memories while looking effortlessly elegant!
Making Memories: Fun Poses and Ideas to Make Your Honeymoon Photos Truly Unforgettable
. Alina Venice Honeymoon Photographer
Ready to capture some unforgettable moments on your honeymoon? We've got you covered with fun and creative poses that will make your photos truly memorable. Whether you're strolling through the romantic streets of Venice or enjoying a candid moment together, these ideas will help you create picture-perfect memories.
Let's start with some creative poses for a couple photoshoots in Venice. How about a classic hand-in-hand walk along the picturesque canals? Or maybe a playful dip and kiss on one of the charming bridges? You could even try striking a pose in front of iconic landmarks like the Rialto Bridge or St. Mark's Square.
But don't forget about those candid moments captured on camera! Sometimes, the most authentic and heartfelt shots are the ones where you're simply being yourselves. Whether it's stealing a quick kiss while exploring hidden alleyways or sharing a laugh over gelato, these genuine moments will bring out the true essence of your love story. Alina Indi Venice Honeymoon Photographer 
So get ready to strike a pose and create memories that will last a lifetime. With these fun ideas, your honeymoon photos are guaranteed to be truly unforgettable!
Conclusion: Cherish your Love Story with Stunning Honeymoon Photos from Venice!
If you're looking to capture the magic of your honeymoon in Venice, don't forget to cherish your love story with stunning honeymoon photos. Venice offers a picturesque backdrop for creating memories that will last a lifetime.
With its romantic canals, charming bridges, and historic architecture, Venice provides the perfect setting for capturing those special moments. Whether you choose to pose by the iconic gondolas or stroll hand in hand through the narrow streets, there are endless opportunities for breathtaking photos.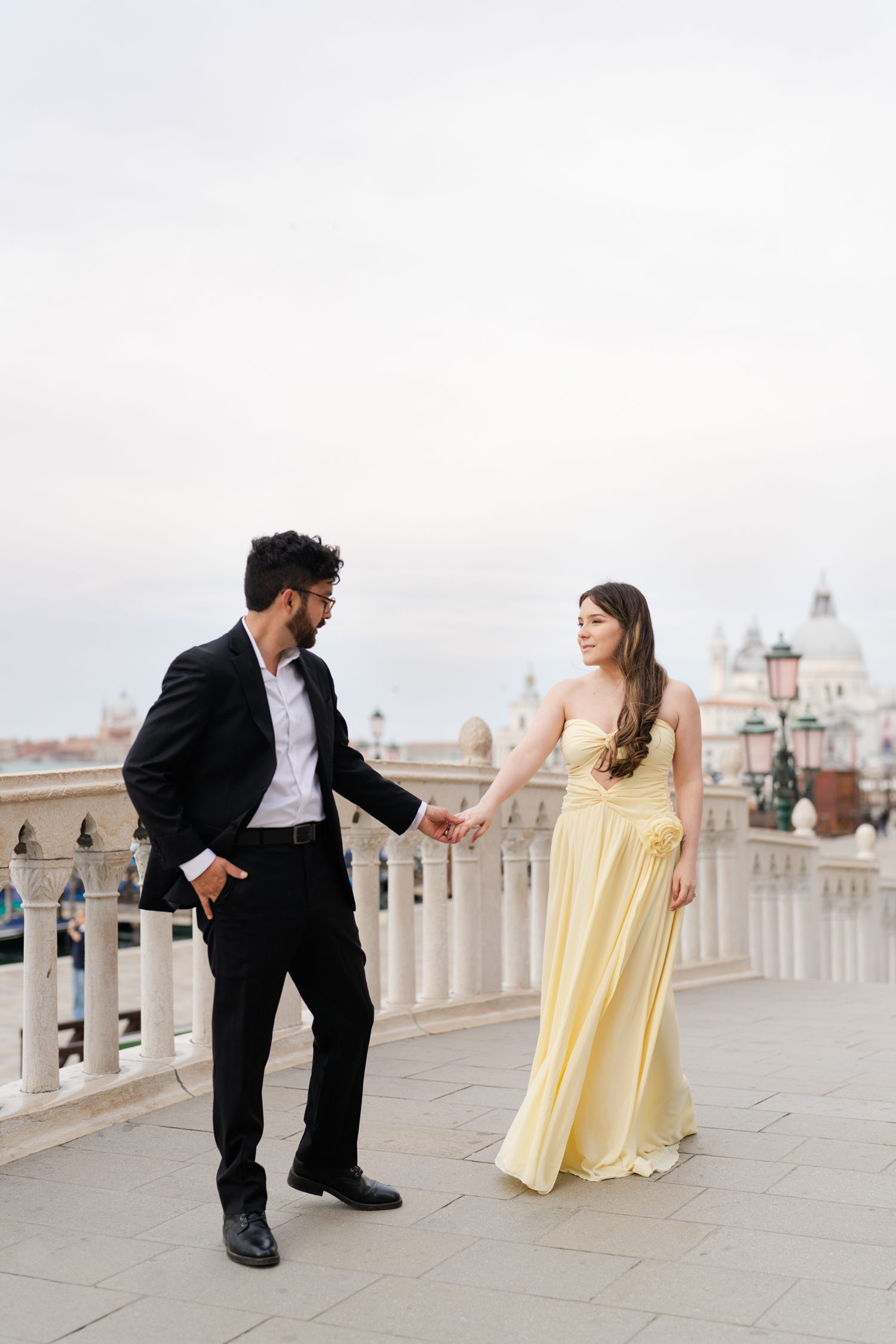 Hiring a professional photographer in Venice can ensure that every precious moment is beautifully captured. They know all the best spots and angles to showcase your love and create stunning images that truly reflect the essence of your honeymoon.
So, don't miss out on this chance to document your love story in one of the most romantic cities in the world. Cherish your memories with stunning honeymoon photos from Venice and relive those magical moments for years to come. 
Contact us via email or Instagram to book a honeymoon Venice photographer in the dreamy floating city. If you're planning a romantic session, you'll enjoy the tips and the guide on how to plan a photoshoot.
If you're planning a wedding photoshoot, this guide is for you!